In this article we will talk about global leaders among cryptocurrencies such as Bitcoin and Ethereum and through the example of BTC to ETH exchange will show benefits of Godex as an ease of use platform to convert cryptocurrencies. 
Many crypto analysts feel certain that Bitcoin will keep the dominance among the top global digital coins because of investment inflow, high implementation speed as well as probable financial meltdown worldwide. Effective use of Lightning Network will transform Bitcoin ecosystem supporting introduction of micropayment system along with e-commerce facilities into BTC ecosystem decentralized applications. These implementations will eliminate claims that Bitcoin network has nothing to develop in future. 
Analyzing which cryptocurrencies are worth investing into in 2020, experts consider Ethereum as the second top cryptocurrency after Bitcoin in terms of capitalization and that it is an only digital coin which is capable of competing with Bitcoin and exceeding its rate.  
Although in the eyes of ordinary users Bitcoin and Ethereum are similar to each other, however, they differ significantly not only from technical side, but also in terms of capabilities they provide to users and developers. In fact, Ethereum is not just an upgraded version of Bitcoin; a team of professionals regularly upgrade the platform implementing more advanced services, speeding up coin mining, using smart contracts that lie in the core of many projects and the digitization of transactions and document flow.
Principal differences between Ethereum and Bitcoin are in their goals and concepts. Ethereum is aimed at launching decentralized applications using smart contracts on blockchain based technology, which are not disconnected and which cannot be changed. At the same time Bitcoin is aimed at serving as a decentralized storehouse of a peer-to-peer cryptocurrency which will be used for the purpose of financial transactions. Bitcoin has faced a downtrend since the beginning of 2018, because BTC did not solve scalability problem. Currently it is not fixed yet, so the Bitcoin downtrend will continue. Therefore, having both Bitcoin and Ethereum in the investment portfolio is a wise decision for any crypto trader.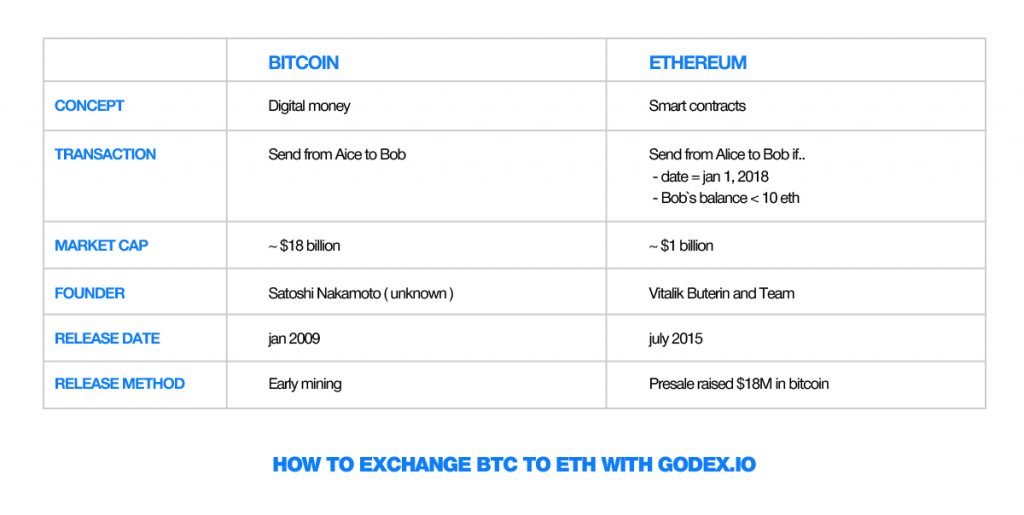 Step 1 – Coin and amount
If you want to exchange BTC to ETH with Godex, go to the home page of the Godex.io, choose Bitcoin from the drop-down menu in "You Send" field and put the amount of coins necessary to be exchanged. In "You Get" field select Ethereum from the drop down menu as well. Then "You Get" field will automatically calculate the amount of Ethereum you will receive. After that, click "Exchange" button.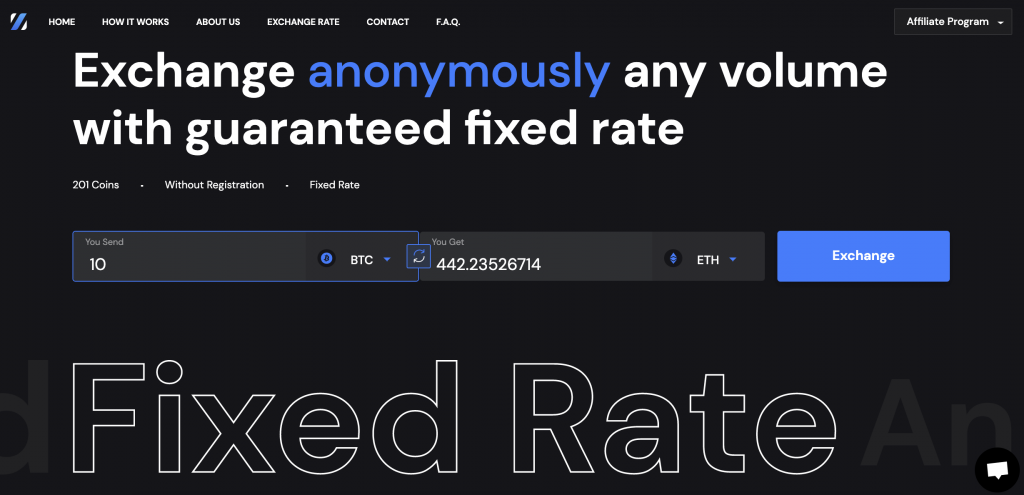 Step 2 – Starting exchange
After selection of Bitcoin/Ethereum exchange pair and the specification of the necessary amount, indicate your Ethereum address in the "Destination" field.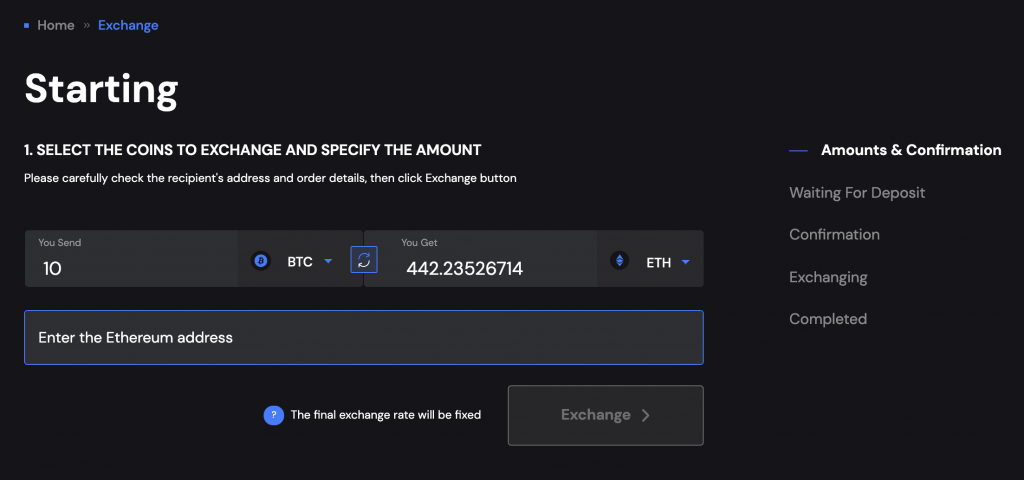 Check all the information on the exchange pair carefully, especially on the accuracy of the Ethereum address and after it click "Exchange" button.
Step 3 – Waiting for deposit
You will automatically receive the Bitcoin deposit address by which you have to send the BTC amount you require to exchange and then you will get the transaction ID.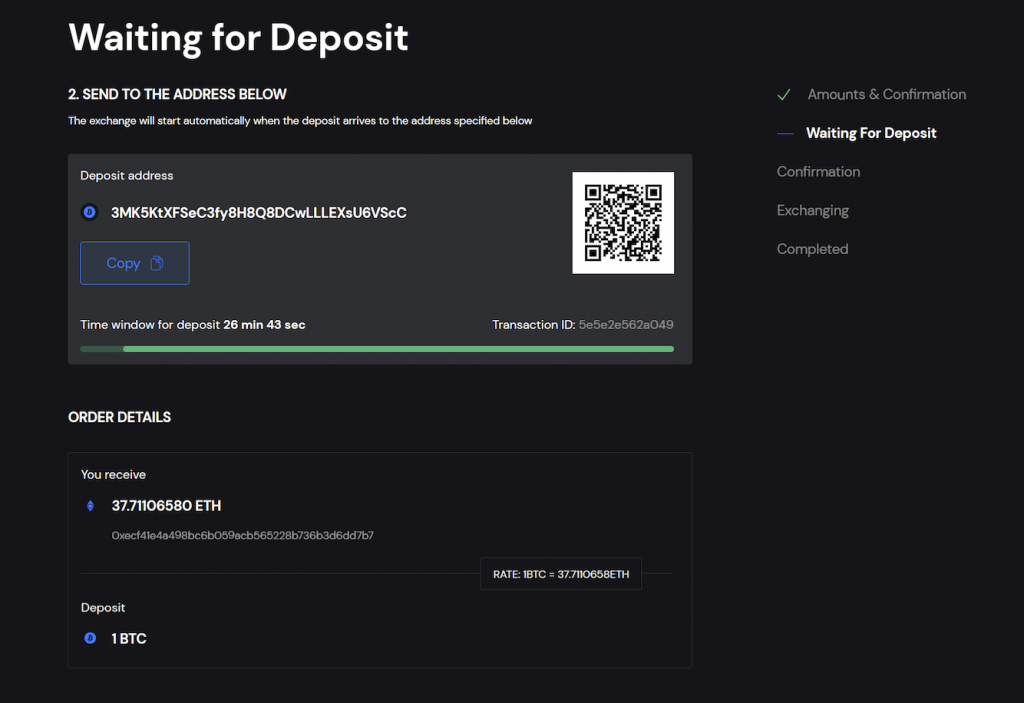 Step 4 – Confirmation
As soon as BTC deposit is received and confirmed, Godex will immediately start converting Bitcoin to Ethereum.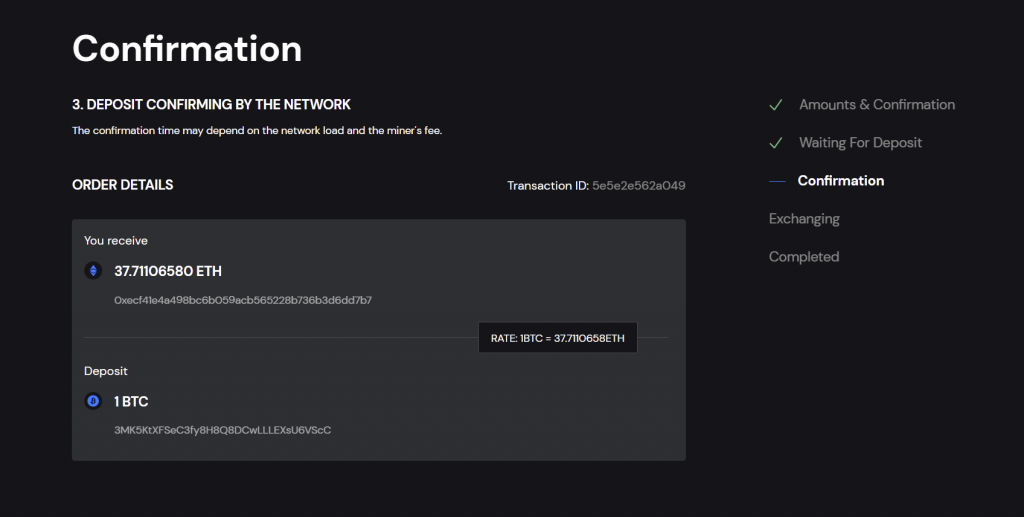 Step 5 – BTC to ETH exchange process
Upon receiving BTC deposit Godex will immediately start searching for the best rate tracked on the partners` platforms like Binance, Bitfinex and others and will convert Bitcoin to Ethereum using the fixed rate. You will get the exchanged amount of Ethereum to the indicated address in a few minutes.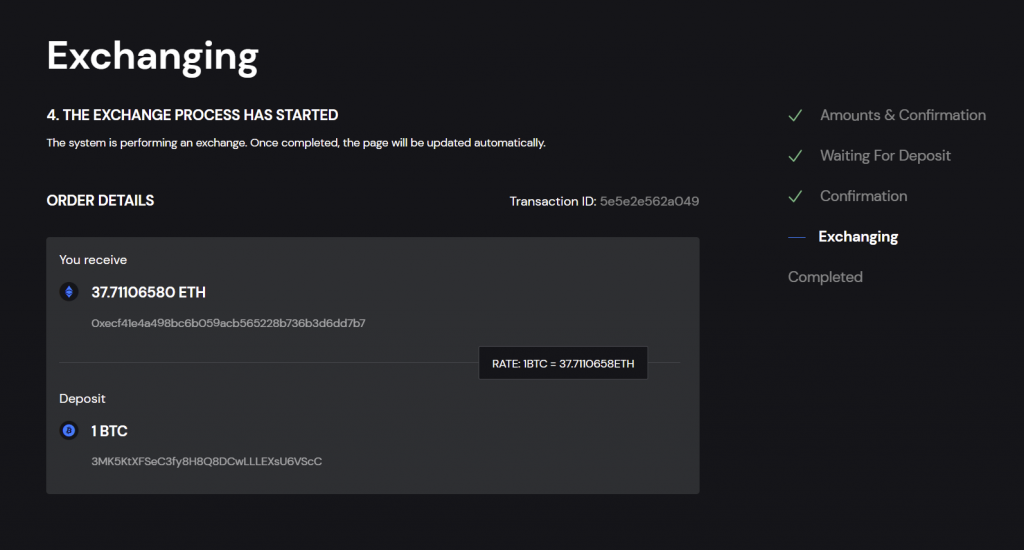 Step 6 – Completed
Upon finalization of exchanging BTC to ETH you will receive order details including the time spent on the exchange process. If you want to continue exchanging Bitcoin to Ethereum, just click "Restart Exchange". In case you have faced any technical problems please click "Support" button and Godex specialists will fix your problem.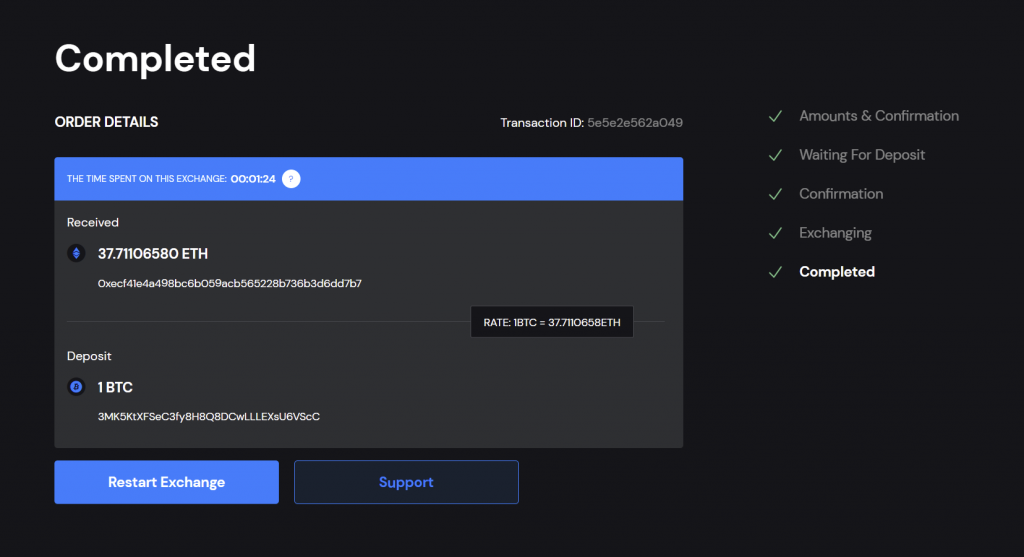 If you have completed to exchange BTC to ETH successfully you may leave your feedback on your experience with Godex.io.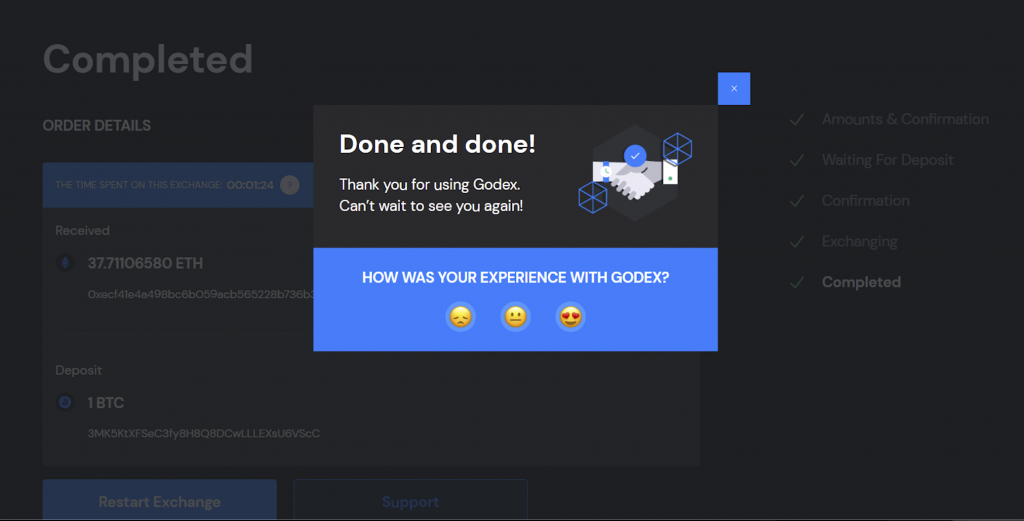 Taking this example a Godex.io user can easily convert not only BTC into ETH but also Ethereum to Bitcoin in a reverse way along with other cryptocurrency pairs. There are no restrictions for currency exchange volumes and there is no need to pass through personal identity or registrations as Godex.io believes that anonymity is an inalienable right of the users. The fixed exchange rate protects Godex.io users from market fluctuations.
Start a Cryptocurrency exchange
Try our crypto exchange platform
Exchange
Disclaimer: Please keep in mind that the content of this article is not financial or investing advice. The information provided is the author's opinion only and should not be considered as direct recommendations for trading or investment. Any article reader or website visitor should consider multiple viewpoints and become familiar with all local regulations before cryptocurrency investment. We do not make any warranties about reliability and accuracy of this information.