Among the multitude of altcoins that make the eyes feel literally restless, Safemoon being a rather new token with quite interesting specifics has been progressively occupying attention lately. Its popularity increased even more during the last year altcoin season when against the background of the general crypto market recession and the decline in the dominance of the major coin (BTC), investors' attention shifted to alternative coins in search of promising projects with a good progress potential.
The token, which debuted in March 2021, has also received increased attention because it is designed to avoid the sharp price fluctuations typical of Bitcoin, Ethereum, and, more recently, of Dogecoin.
Overview of SafeMoon coin
SafeMoon is a DeFi Protocol on the Binance Smart Chain blockchain. It is claimed as a means to solve the problems faced by liquidity providers in decentralized finance protocols in terms of inconsistent losses, crowding out of new investors by earlier investors. The concept of reflection applied by SafeMoon implies static rewards that mitigate most of the above disadvantages. A wallet, a decentralized exchange and a cryptocurrency wallet are currently in the launch stage, also among the products of the Mooncraft browser game and a merch store.
SafeMoon is a BEP-20 token that serves as a reward for liquidity delivery. Although it appeared in spring of 2021, a large community has already grown around it. Because of its hasty growth, SafeMoon cryptocurrency and its head of the team, a 25 years old John Caroni began to catch higher attention than on Reddit, users began to inquire on his biography. Several people wrote that Caroni's parents worked as agents for the CIA, but this information cannot be verified through open sources.
What are SafeMoon's three main features?
It can be burned;
It can be accumulated;
It is fully controlled by the community.
Many DeFi projects, alas, turn out to be a classic bubble: eventually, it explodes and the price of tokens falls. The company's white paper says that the creators are solving the problem of rate hikes with "statistical rewards." This mechanism should convince users to keep their assets, rather than sell immediately at a sharp rise. 
After the company's capitalization exceeded $4 billion, SafeMoon Cash (SMCG) separated from it. Although it is handled by a different team, the company says that this project complements the main one. SMCG, like SafeMoon, runs on Binance Smart Chain.
SafeMoon Forecast: Authoritative Opinion
Most analysts are of the opinion that SafeMoon will be worth more than $0.00001141 in the next five years. Of course, no one will give you a 100% guarantee, because cryptocurrency volatility is not news to anyone, and SafeMoon price can either grow quickly or go to the bottom like a stone with the same rapid speed.
In general, there is a certain tendency of forecasting the price of this recently launched altcoin. There is a huge expectancy that in the next 8-10 years the lowest mark will get to $0.00007115, and the utmost rate one should expect at $0.00008370.
SafeMoon Price Prediction 2022-2030
SafeMoon price predictions for the future look pretty positive.
Pursuant to Digitalcoin's outlook, SafeMoon estimate is likely to recover and blossom in the next-door years, though its value may stop behind a fraction of a cent. Their prognosis refers to rate shooting up to $0.00000859 in 2022 and to $0.00001458 by 2025. 
Wallet Investor algorithmic service has a rather bullish SafeMoon cryptocurrency price forecast. It is convinced that by the end of 2022 the token price will light up at $0.000079, and by 2025 its value will be equal to $0.000219.
Coinpedia foretells that SafeMoon price will be stuck within the diapason of $0.000016 to $0.00001655 towards the end of 2022. Their bullish outlook believes that the rate is going to keep progressing to $0.00003 – $0.00005 by the year of 2026.
Price Prediction's SafeMoon cryptocurrency coin forecast assumes that in 2022 the SafeMoon value climbs to $0.00000268, but already in 2029 it will jump to $0.00003368.
SafeMoon price prediction 2022
WalletInvestor SafeMoon сrypto price prediction shows an utmost fee of $0.000007 in August 2022 and the merest price of $0.000029 in the next half a decade.
In accordance with Price Prediction's in-depth technical study, SafeMoon's smallest price is assumed at  $0.00000268 in 2022, the highest one is foreseen at $0.00000318 with an average figure of $0.00000276 the same year.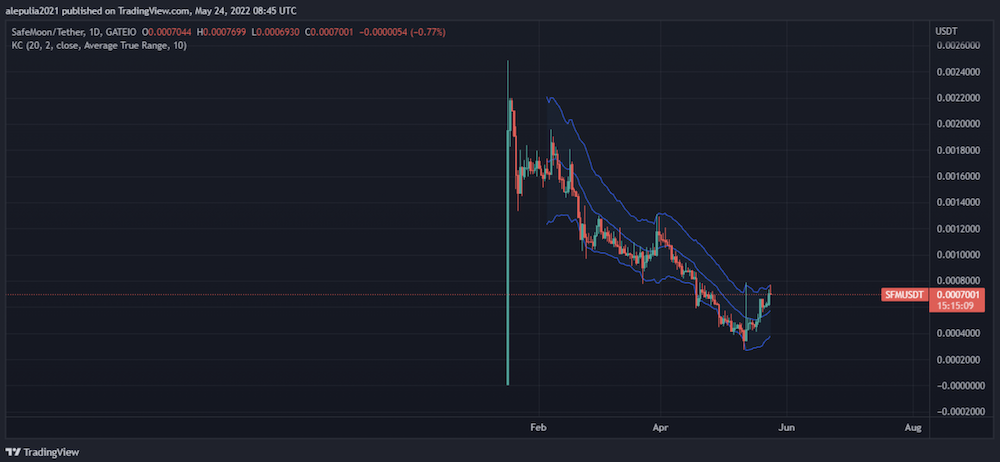 SafeMoon price prediction 2023
As reported by the current Criptonisation prognosis for 2023, SafeMoon price will face changes from $0.0000031 to $0.0000047. Due to the service`s analysis, in 2024 SafeMoon is foreseen within the scope of $0.0000050 to $0.0000071.
Price Prediction assumes that the SafeMoon fee may fall down to $0.00000390 in 2023 and jump up to $0.00000473 keeping an average mark of $0.00000401.
SafeMoon (SFM) Price Prediction 2024
The most modest forecast for SafeMoon was presented to the crypto community by DigitalCoinPrice analysts, who expect the coin to rise slightly in price to $0.000488 – $0.000652 in 2024. 
TradingBeasts believe that the cryptocurrency will not fall below $0.0006974, and may even go up to $0.0010256. The analysts of PricePrediction adhere to the same opinion, predicting growth to $0.001. In this case, the ROI will be 105%.
SafeMoon price prediction 2025
As stated by the Criptonisation technical study, in 2025 the SafeMoon price forecast ranges within $ 0.0000075 to $0.0000114.
Many platforms and analysts are convinced that SafeMoon's value will keep rising over the next half a decade, surpassing $ 0.00001141 by the beginning of 2026.
In accordance with Price Prediction foretell, in 2024 the SafeMoon rate will touch the bottom of $ 0.00000539, max out to $ 0.00000955 and stay at a medium point of $ 0.00000846 during 2025.
SafeMoon (SFM) Price Prediction 2026
DigitalCoinPrice continues to predict a gradual increase in the price of the SafeMoon token, but does not expect sharp price fluctuations. According to analysts, 1 SFM can be bought for $0.000649 – $0.000704 in 2026. The highest recorded price will be $0.000745, in their opinion.
TradingBeasts have a more positive outlook, expecting the coin to be worth at least $0.003.
SafeMoon price prediction 2027
Price Prediction technical analysis shows that SafeMoon's lowest point will end up 2027 close to $0.00001644 while the highest trading value is likely to reach $0.00001964.
Digitalcoin goes optimistic for the next 6-7 years and they report that by 2028, SafeMoon could get to a new peak of around $0.00002305.
SafeMoon (SFM) Price Prediction 2028
Analysts from DigitalCoinPrice finally expect that in 6 years the number of zeros after the decimal point will decrease in the SFM coin rate. In their opinion, the price tag on the coin will range from $0.00116 to $0.00124, and $0.00133 is the highest price at which SafeMoon will be traded in 2028. At TradingBeasts, experts expect the value of 1 SFM to rise to $0.005 – $0.006.
SafeMoon (SFM) Price Prediction 2029
Long-term forecasts are less accurate, and although analysts' figures vary, all predict a rise in the price of the SafeMoon crypto asset. So, although DigitalCoinPrice disagrees with their colleagues from TradingBeasts regarding the ability of the coin to reach the value of $0.008 – $0.009 in 2029, they also predict that the rate will go up, although not at such a pace. In their opinion, the coin will reach its maximum of $0.00169 and will not fall below $0.00156. Even if the most modest forecast is fulfilled, ROI will be 219%.
SafeMoon price prediction 2030
Price Prediction believes SafeMoon in 2030 SafeMoon may deep down to $0.00004833 in 2030, and at the same time may sky up to $0.00005768 having a middle estimate of $0.00004973 throughout 2030.
Digital Coin has an outlook that SafeMoon will come close to  $0.0000091320 in 2028-2030.
Is SafeMoon profitable and good to invest in?
SafeMoon is a new token, so there is not much information about it and the development team behind it. As far as existing market trends are concerned, this sounds more like a get-rich-quick scheme than an investment option.
As we have discussed, there is currently hype around cryptocurrencies. However, this does not necessarily mean that every new form of cryptocurrency will get a terrific launch party. SafeMoon, for some reason, has broken the barrier of expectation and it is now advertised as the hottest thing on the market.
Like most investments, SafeMoon promises great bonuses but it's all about its word-of-mouth. SafeMoon promises to attract its investors "to the moon," which is a fancy way of saying that their financial schedule will see dramatic growth.
In addition, SafeMoon strongly encourages its users to save an asset, which is great for those who are more comfortable doing long-term investing. SafeMoon charges a 10% commission on each transaction, 5% of which is distributed to all investors and the remainder is burned. The more tokens you hold, the richer you are likely to become. 
FAQ
How to buy SafeMoon?
SafeMoon is currently traded on the following exchanges: PancakeSwap, BitMart, WhiteBit and Gate.io.
The best way to buy SafeMoon is via PancakeSwap, which was launched in 2020 and it works as an automated market maker. It is a decentralized finance (DeFi) application that endorses a broad array of trading, liquidity providing and crop operations. 
However, it is more complicated to purchase SafeMoon in comparison with  just buying top altcoins like Bitcoin and others as you primarily have to buy, for example, BinanceCoin. Then it should be placed in a wallet that upholds the technology. Token proponents say MetaMask and Trust wallet are the best deals. Holders can then exchange Binance tokens to SafeMoon through the Binance Smart Chain network.
A special SafeMoon wallet is under development and its goal is to prune down the exchange process.
Can SafeMoon reach $1?
Financial experts predict that SafeMoon will face many challenges to reach the $1 mark and have warned investors that it may not be able to reach the goal this decade. For SafeMoon to reach $1, it needs to show a steady growth trajectory for its indexes every day, and given the volatility of the crypto market, its new highs in the future could be cut in half or more in a normal market crash, and it would take years to recover and rise from falling.
In addition, given how new coins are gaining traction and attention in the market, SafeMoon should compete in attracting attention even in the long run, rather than fading out. Experts predict that SafeMoon investors can only hope for the cryptocurrency to reach the $1 mark only in the next decade.
Is SafeMoon legit?
SafeMoon has a legally registered company with developers working on this token project.
It is community-based and driven by excellent tokenomics. The developers are working on many things such as: major exchange listings, a new website and more.
Since its creation, SafeMoon has become quite popular, which is caused by the promotion of influencers in social networks. The SafeMoon explosion is currently one of the most popular topics on Reddit. However, this does not make it a must-have for most investors. Since it is a new form of cryptocurrency, an investor should always be prepared to lose every cent they put in. 
Nevertheless, from the looks of it, SafeMoon doesn't seem like a terrible scam. In particular, scammers send Discord users a message on behalf of the official SafeMoon account, supposedly informing them about a new version of the app.
How to protect yourself from fraudsters?
Beware of any unknown messages on email, social media and other channels.
Don't click on links in suspicious messages, especially from an unverified source.
Pay attention to inaccuracies in URLs, or rather enter them yourself.
Create strong and unique passwords.
Leverage two-factor authentication (2FA) and a comprehensive security solution.
Start a Cryptocurrency exchange
Try our crypto exchange platform
Exchange
Disclaimer: Please keep in mind that the content of this article is not financial or investing advice. The information provided is the author's opinion only and should not be considered as direct recommendations for trading or investment. Any article reader or website visitor should consider multiple viewpoints and become familiar with all local regulations before cryptocurrency investment. We do not make any warranties about reliability and accuracy of this information.