What is Stellar (XLM)?
Stellar Lumens is a cryptocurrency created by the Stellar Development Foundation (SDF), a non-profit organization that is used to send, receive and trade other assets. Lumen (XLM) powers the Stellar network and all its operations, just as Ether (ETH) powers the Ethereum network. 
Lumens is similar to Ripple, although it has some differences, such as the target audience, which primarily consists of corporate clients. However, it also does not neglect cooperation with banks and financial institutions.
The Stellar project boasts a wide range of products. For example, he released payment applications that use tokens backed by the currency of the Stellar network. Along with this, there is a built-in decentralized exchange. Such a convenient platform allows users to exchange cryptocurrency, forex or other securities. Finally, Stellar has created a micropayment service that you can use on a daily basis to tip or sign up.
What is Ripple (XRP)?
Unlike Stellar Lumer, XRP is backed by a private commercial organization Ripple, which also created a kind of payment gateway RippleNet, using it to exchange digital and fiat assets in real time. 
XRP offers its users low transaction fees, high throughput, and fast execution. It is for this reason that many viewed it as an alternative to the traditional financial system. Indeed, while international money transfers were associated with the words "expensive" and "long", XRP transactions seemed like manna from heaven.
However, in order to fulfill its mission, this project needed support from reliable banks, and he received it. Having started working with international payments in 2016, Ripple received support from major global banks such as Santander, UniCredit, Royal bank of Canada and others.
Ripple vs Stellar charts and prices
XRP price at the moment of writing is $ 0.733950 USD with a daily trading volume of $ 2,423,329,272 USD. CoinMarketCap's current rating is # 6 with a market cap of $ 33,990,996,822 USD. Ripple began its cryptocurrency journey with a cost of $ 0.002802. The maximum that it has reached in its value is $ 3.84. The XRP ROI of buying altcoin at the lowest price is 12,430.28%.
In general, if we talk about the cost of tokens, XRP has a fairly stable rate compared to other crypts. There were no obvious sharp surges. The rate of the coin is growing slowly but surely, which has a positive effect on the reliability of investments.
Ripple chart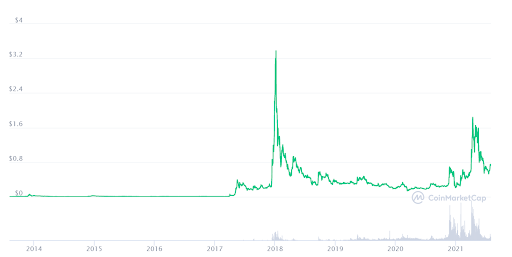 XLM pricing is determined by the speed of propagation of the Stellar network. The more Stellar is used, the higher the price of Lumen will be. The Stellar blockchain is one of the best and is obviously driven by its partnerships with renowned tech titans like IBM, Flutterwave and French company Tempo Money.
Stellar price at the moment of this writing is $ 0.278301 USD with a daily trading volume of $ 536 187 607 USD. CoinMarketCap's current rating is # 19 with a market cap of $ 6,510,488,956 USD. The minimum value of Stellar Lumens recorded 7 years ago is $ 0.001227. The maximum increase happened in January 2018, when its value reached $ 0.9381. Stellar ROI is 9442.09%.
Stellar chart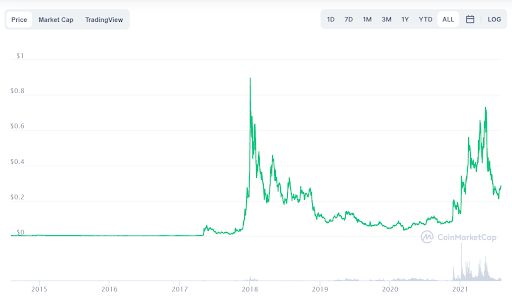 Unlike Stellar, the growth of XRP tokens is not entirely dependent on the popularity of the network itself. This usually happens in fully decentralized systems, which Ripple is not. And even if RippleNet develops rapidly and is popular with investors, the cost of its tokens may remain at the same level, or even decrease. However, the deflationary model, which implies a reduction in the number of tokens after each transaction, should gradually increase the value of tokens.
The difference between Stellar and Ripple
While both Ripple and Stellar are open source and rely on distributed ledger technology, there are some striking differences between them. As already mentioned, one of these differences is the focus on different customer groups. Unlike Ripple, which works with renowned financial institutions and consortia, Stellar focuses more on individuals and emerging markets and has many use cases for its technology. Some of these include cash transfers and the distribution of bank loans to non-bank loans. Various partnerships with banking institutions and payment processing platforms around the world allow people to use the Stellar network to conduct local and international transactions at virtually no cost.
In fact, the Stellar brand helps rather than profit from people.
In terms of organization size, Ripple is generally a larger organization with more capital. After all, Stellar is targeting a smaller user pool compared to Ripple.
Stellar vs Ripple table
| | | |
| --- | --- | --- |
| | Ripple (XRP) | Stellar Lumens (XLM) |
| Target audience | Banks, financial institutions | Individuals, business, banks, financial institutions |
| Management | Commercial company | Non-profit organization |
| Decentralization | No | Yes |
| Consensus Algorithm | XRP Ledger Consensus Protocol | Stellar Consensus Protocol (SCP) |
| Confirmation time | 3-4 seconds | 2-5 seconds |
| Bandwidth | 1500 TPS | 1000 TPS |
| Transaction cost | 0.00001 XRP or 0.00000249 USD | 0.00001 XLM or 0.00000087 USD |
Use cases of Stellar and Ripple
Stellar Lumens (XLM) serves several functions on the network, but it is mainly used to pay for transaction fees and acts as an intermediary allowing users to trade between multiple currencies quickly, easily and at the lowest possible cost. For Lumens to work as expected, users must keep a minimum XLM balance in their accounts.
It's worth noting that Stellar has a decentralized protocol that's built right into it. Any payment in different currencies can be directed through his order book, as a result, the desired currency will come.
To help Lumens gain significant adoption as cross-border blockchain money transfers, Stellar has also partnered with IBM.
Let's see how this works with an example.
Jessica wants to send to her grandmother, who lives in Russia, $ 50 as remittance. Let's say she chooses traditional bank transfers. In this case, it will be charged an average transaction fee of 7.1%, resulting in $ 46.25 on the final transfer, excluding currency exchange fees.
But if she chooses Stellar, it will convert her dollars to Lumens, and then the order book converts Lumens to rubles. Jessica's granny can get almost the exact amount of dollars in just five seconds.
The same concept is inherent in Ripple. For private users, Ripple created the One Pay application, which is integrated into RippleNet and allows you to send money around the world instantly, reliably and for a fraction of a cent.
Useful tools have also been developed for payment service providers, such as:
xVia, which is an API through which financial service providers can interact within the same ecosystem, conduct transactions through other network participants and attach any information to them, such as invoices.
xCurrent that enables interoperability between different registries and networks using the Interledger Protocol (ILP), created for direct communication between different payment systems (for example, between Bitcoin, PayPal and USD).
xRapid. A protocol that provides liquidity for cross-currency transactions on demand, and uses the XRP cryptocurrency token as the default intermediary currency, which significantly reduces the time and cost of transactions.
Stellar vs Ripple transaction speed
By executing a transaction, the sender expects everything to go quickly and inexpensively. Ripple and Stellar promise that the speed of the transaction is high even if the sender and the recipient are separated by thousands of kilometers.
Transaction speed is highly dependent on scalability, which is measured by TPS (number of transactions per second).
Practice has shown that the Ripple platform processes 1,500 transactions per second. Each transaction takes about 4 seconds to settle payments. In the ranking of the best payment systems, Ripple ranks second, behind only VISA. 
Such high rates are achieved thanks to its own patented technology – The Ripple Protocol Consensus Algorithm. All transactions (conversion, payments and transfer of funds) are carried out on a consensus basis. 
Stellar is based on the Ripple protocol, but unlike the closed Ripple network, here anyone can become a validator, horizon server, or archiver node.
The Stellar blockchain can process up to 1000 TPS and each transaction takes 2 to 5 seconds.
Even having achieved significant success, overtaking more mature cryptocurrencies in the availability and speed of transactions, developers of both Stellar and Ripple platforms continue to work on improving and creating new algorithms.
Ripple vs Stellar technology
While Stellar is somewhat more decentralized, it is run by a centralized organization similar to Ripple. As such, Stellar does not meet the most stringent criteria for a decentralized cryptocurrency. This is why people sometimes refer to XLM and XRP as centralized digital currencies.
While both blockchains operate using distributed ledger technology, Ripple and Stellar's technologies work in different ways. The Ripple network relies on a proof-of-correctness algorithm, while Stellar uses a consensus protocol. The main applications of the Ripple protocol are related to banks and larger players. The Stellar ecosystem, in turn, has become a convenient niche for individual peer-to-peer and small business transactions.
The underlying technology of the XRP network is Ripple Connect, which provides coordination between participants in a financial transaction. Another element is the ILP Ledger – it is used to carry out a transaction. Its peculiarity lies in the presence of its own gateway, which controls the SWIFT and ISO transfers.
Consider the case where one network participant sends XRP coins to another user, and then verifies the Ripple transaction.
To begin with, information about the payment is collected. At the same time, Ripple Connect sends a request to the sender to receive information about the amount of XRP and the commission for the payment (as you know, its value is fixed at 0.00001 coins). Next, the system checks the transaction for compliance with standards and norms, as well as the presence of the required amount on the wallet of the sending party. The operations discussed above take place without a time delay, which makes Ripple stand out from its competitors.
The next stage is the coordination of the operation in 3 different positions, namely between the sender of the transfer, Ripple Connect, and the recipient of the funds. At such a moment, the system freezes the transactions in all 3 points. As a result, ciphers are created that open access to the financial transaction. The operation is carried out simultaneously for all participants, which eliminates the risk of losing funds.
The transaction either goes through or is canceled entirely. As soon as the transaction is completed, users receive confirmation. In view of the above, the conclusion suggests itself that the entire process of the transaction is as open as possible for the participants. If there are delays, you can track the XRP transaction and check its status.
At the time of the launch of the Stellar blockchain, 100 billion XLM tokens were issued, similar to Ripple. By the same analogy, the Stellar network uses a mandatory minimum commission for each transaction of 0.00001 XLM and there is a limit of funds that is frozen in the user's account before using it. These are network defenses against spam transactions and the creation of empty wallets.
Stellar's consensus mechanism allows any node to validate and send a transaction to the network. After that, the transfer is forwarded for verification to another node and so on along the chain until 80% of the network nodes consider the transaction to be reliable. To protect against dishonest users who may try to launch their own node and send an unreliable transaction to the network, a mechanism for temporarily "freezing" the blockchain is provided. If fraudsters control several nodes, then they will simply be excluded from the transaction process, but in the event of a massive attack on the blockchain, payment processing will be suspended until the credible nodes come to a consensus. Of course, this is not the most convenient way of protection from the point of view of ordinary users, because no one wants their payments to get stuck somewhere. But nothing has been heard of such cases yet and the Stellar network works fine.
Stellar vs Ripple in 2021: which one to choose?
There is no definite answer, as both projects have support from powerful partners, which guarantees a certain reliability. Moreover both Ripple and Stellar have promising developments that can lead to a breakthrough to each of them.
Anyway if you are seriously deciding whether to invest in Stellar or Ripple, it will be helpful for you to know that Ripple has a lengthy lawsuit with the SEC that could affect its value and destiny in general. Also, the removal of XRP from major crypto exchanges such as Coinbase, Crypto.com and others also has a negative effect. Naturally, this will lead to a decrease in its potential trade volumes. That is why, probably, it is better to refrain from investing in XRP and wait for the outcome of the SEC lawsuit. Until then your wallet content can be diversified with XLM currency, that can be another great long-term investment. On the other hand, if the Ripple is justified, the value of its coins may increase. In this case, it is better to invest right now, but only if you can afford such risk.
Where to buy Ripple & Stellar Lumens
When you decide to invest into XRP or XLM, you may be wondering about the place of purchase. Fortunately, due to its popularity, you can get these cryptocurrencies on most major exchanges, such as Kraken or Binance, for example. Of course, the situation with Ripple is somewhat worse, while litigation continues, some exchanges refuse to deal with this coin. However, both digital assets can be purchased on reliable platforms like Godex, eToro or Paybis. 
Start a Cryptocurrency exchange
Try our crypto exchange platform
Exchange
Disclaimer: Please keep in mind that the content of this article is not financial or investing advice. The information provided is the author's opinion only and should not be considered as direct recommendations for trading or investment. Any article reader or website visitor should consider multiple viewpoints and become familiar with all local regulations before cryptocurrency investment. We do not make any warranties about reliability and accuracy of this information.