Nowadays cryptocurrencies become an inevitable part of business world. The number of people who are trading with the digital coins is steadily growing. So, why to invest into crypto coins at all? In this article we will describe our vision on perspective crypto projects in 2021 and mention expected capstones related to crypto market capitalization and value of digital currencies.
Crypto capstones in 2021
Transition to Ethereum 2.0 on the basis of PoS algorithm is a primary event this year.

Decentralized Finance (DeFi) will also play a vital role in the crypto sphere enabling the growth of decentralized trade by digital assets as well as forecast markets.

In the end of 2019, the European Central Bank was working on the launch of the CBCD. In terms of China's market dominance worldwide, the digital yuan is considered as highly anticipated digital coins in 2020.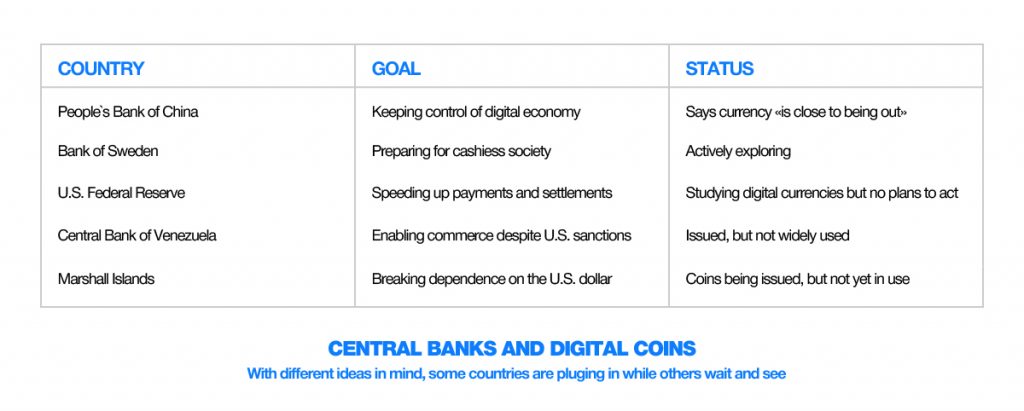 Today Bitcoin is considered as a highly recommended crypto coin with the constantly growing value and unchallenged impact on the general crypto market capitalization. Thus, investors who take into account several crypto coins raise the chances that at least one of them will grow in price. 
Crypto projects to pay attention in 2020
See below our list of the crypto projects to consider in 2020:
Chainlink platform develops middleware between external data and smart contracts for their promotion and capability extension via blockchain technology. Analysts think positive about ChainLink platform ability and in case of successful launching the investments into LINK will bring a good return from the long-term perspective.
DxChain is a decentralized platform aimed at providing data exchange, analysis and storage. DxChain uses blockchain technology and focuses on such stumbling issues as data privacy and security, as well as support for business analytics and machine learning apps. DX tokens are used for network internal payments and for rewarding miners. The project has strong potential and it can bring substantial benefits for many DApps in the long run.
The Seele project seeks to develop the most favorable and sought-after digital technologies, combining them within its own blockchain. The Seele project is very ambitious; analysts indicate the relevance of the introduced idea and the power of the platform for the purpose of global use. In this context,Seele token may become a good investment in 2020 mainly as short-term contributions.
The ETHLend platform uses the Ethereum blockchain and offers an idea of decentralized peer-to-peer lending system. Users can take up loans and lend in anonymously via smart contracts and an internal crypto coin as collateral. As a result, ETHLend gives reliable mechanisms for lending that will make the credit market accessible to users worldwide.
Centrality (CENNZ)
Centrally (CENNZ) is a decentralized Ethereum based platform for the applications connected to blockchain technology and governed by smart contracts. Developers have a green light to create more applications within the platform, to purchase modules for them and maintain connections for data acquisition. Thus, despite many obstacles the platform seems strong enough to keep going.
Godex.io allows purchasing more than 200 crypto coins in a fast and convenient way. There are no restrictions for currency exchange volumes and no need to pass through personal identity. Any user may do it anonymously without any registrations and feel protected exchanging crypto coins with a fixed exchange rate despite any market fluctuations.
Start a Cryptocurrency exchange
Try our crypto exchange platform
Exchange
Disclaimer: Please keep in mind that the content of this article is not financial or investing advice. The information provided is the author's opinion only and should not be considered as direct recommendations for trading or investment. Any article reader or website visitor should consider multiple viewpoints and become familiar with all local regulations before cryptocurrency investment. We do not make any warranties about reliability and accuracy of this information.