The names of both IOTEX and IOTA cryptocurrencies contain the abbreviation "IoT", meaning the Internet of Things, the concept of connecting things around us into a global network operating on M2M (machine-to-machine) technology. Thus, both crypto projects contribute to the development of solutions for the IoT sector. 
But does that mean they are the same? Absolutely not. It would not make sense to create two identical digital assets.
Both tokens have different performance on the crypto market, level of adoption, and also use different technologies. To understand what makes them different and which coin is more attractive for investors, we are organizing something like a crypto battle. The IOTX vs IOTA battle will consist of six rounds where both competitors will be able to prove their superiority in the main categories every investor should look out for. But first, let's allow these cryptocurrencies to introduce themselves.
What is IOTA?
IOTA is one of the innovative crypto projects with the idea of ​​bringing distributed ledger technology (DLT) to a completely new area – the Internet of Things (IoT). To implement it, a directed acyclic graph (DAG) technology was created and used. This new development allows IoT devices to be connected to a high-speed, secure, scalable and decentralized network. The main advantages of adapting this technology instead of the usual blockchain are the absence of transaction fees and environmentally harmful mining.
Technologies
DAG in IOTA performs the same role as the blockchain in Bitcoin and Ethereum – it is responsible for confirming transactions and protecting against malicious network users who seek to harm it (hack, stop, slow down, steal money, etc.). However, the DAG architecture is built of horizontal networks where transactions are directly connected to each other. This is rather different from the Bitcoin blockchain architecture with its vertical networks. There, transactions are grouped into new blocks and then added to the blockchain chain.
There is a "bottleneck" in a blockchain like Bitcoin, which has a bad effect on the level of scalability. DAG doesn't have this type of issue. (The source is Wikipedia).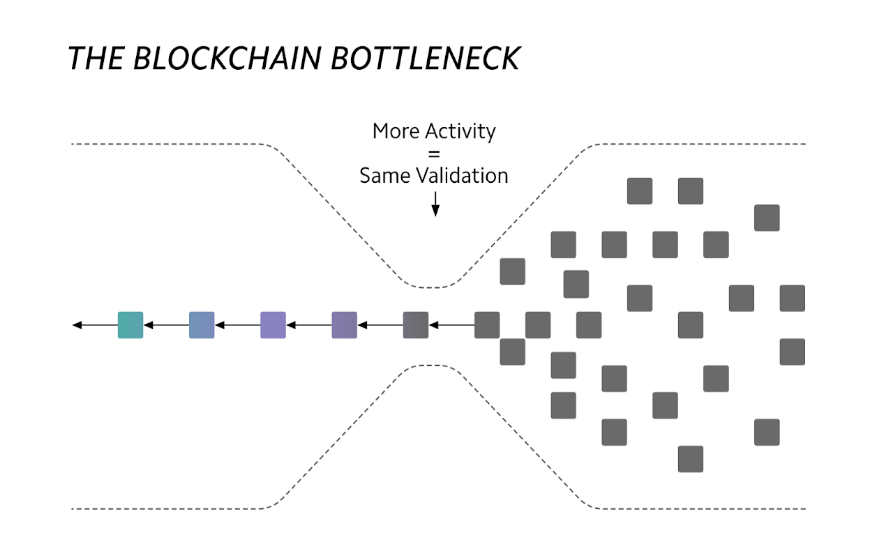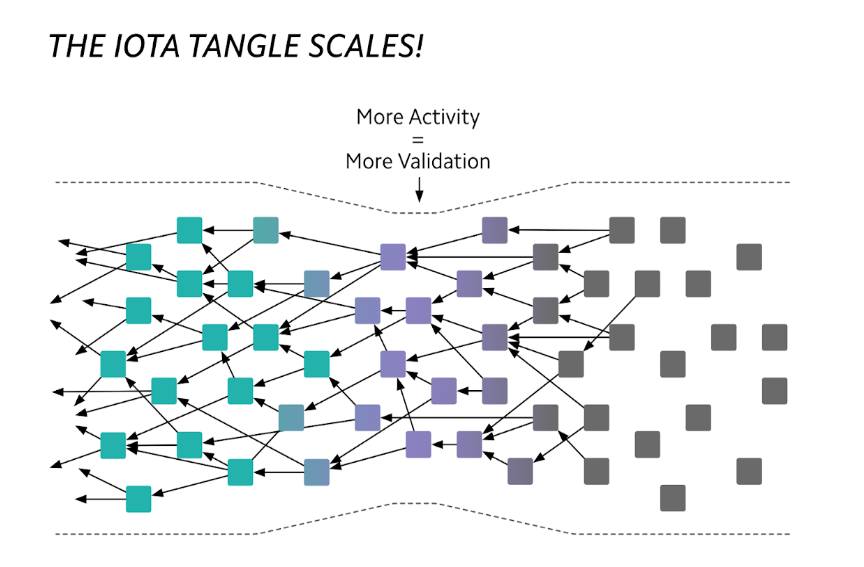 Thanks to DAG technology: the Tangle consensus mechanism and the Illustrated Introduction protocol, IOTA has no scalability issues, as well as the need for miners and transaction fees.
IOTA and MIOTA tokens
The platform has a native token of the same name – IOTA, which plays the role of a means of measuring value in the ecosystem. But its price is too low, so cryptocurrency exchanges and trade platforms use the MIOTA (Mega-IOTA) token, which contains 1,000,000 IOTA units.
Security Issues
However, not everything is rosy for the project that introduced the crypto community to lightning-fast free transactions. IOTA experienced a boom in popularity in 2017, when it was in the top 5 cryptocurrencies. But after the development team failed to fulfill a number of given promises regarding planned projects, the credibility of IOTA dropped sharply. The project was also criticized after a number of security problems were identified.
Security Bug #1
The first case happened back in 2017, when researchers at Boston University and Neha Narula of MIT's Digital Currency Initiative (DCI) tested the encryption algorithm that was used on the IOTA network and cracked it. This kind of thing often happens and even the most advanced technology has weaknesses. But the trouble was not so much in the hashing vulnerability, which the team immediately fixed, but the way they responded to the researchers' remark. The authors of the study were pressured to retract their comments, and even threatened with legal action. This behavior of the founders, of course, damaged the reputation of the entire company.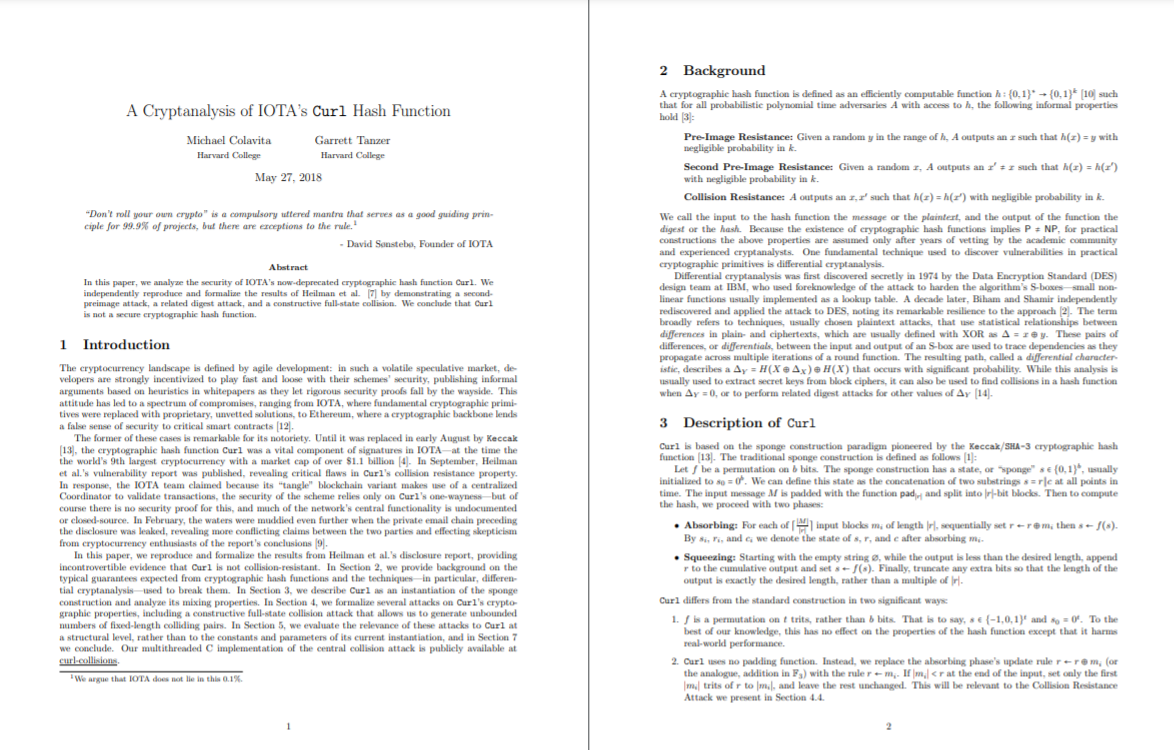 Research work on the IOTA Curl-P-27 algorithm. Source: Twitter Jonathan Jogenfors.
Security Bug #2
There was an attack that put the funds of some users at risk, exposing part of the private address of their wallets. The developers fixed the vulnerability and transferred potentially compromised tokens to addresses under their control.
Security Bug #3
The third developer mistake cost IOTA users $10 million when several hundred wallets were hacked using a seed phrase generator. This is the largest hack to date. But this is the "achievement" of a hacker, not the developers of IOTA network protection mechanisms.
Security Bug #4
The next hack was not as massive as the previous one. This time, more than $2 million was lost as a result of a hack on the Trinity crypto wallet, which is managed by the IOTA foundation. The actions of the IOTA team, which, after the hack, simply stopped the work of the coordinator node and essentially turned off the entire network, were heavily criticized in the media and the blockchain community.
By the way, this revealed another unexpected drawback of IOTA – its network turned out to be centralized, as it depends on the operation of a single coordinator node.
What is Now?
Security incidents have left their mark on the company reputation. IOTA demonstrated one of the worst results in the 2020-2021 Bull Run and dropped to 56th by market capitalization.
However, do not rush to write IOTA off. Now the project is experiencing the most extensive update in its history, introducing a fundamentally new protocol – IOTA 2.0. Staking, tokenization, NFT and programmable smart contracts have been added. The developers claim that the level of security and reliability of the network has been increased, and due to the removal of the coordinator, the IOTA network has become completely decentralized.
In recent years, IOTA has acquired many big name partners, including Microsoft, Volkswagen, DNB Norway, Bosch, Jaguar Land Rover, Dell Technologies, Linux Foundation and about 100 other companies.
IOTA is aiming at the very favourable IoT market, which will grow with more devices every year, requiring a platform for data and asset exchange. Perhaps IOTA can become such a platform. What if IoTeX comes up with something better?
What is IoTeX?
IoTeX is another budding blockchain project offering solutions for implementation in the Internet of things (IoT). IoTeX represents a whole ecosystem of exciting projects and partners. By offering unique hardware devices that anyone can buy and use in the real world, the company sets itself apart from most other digital-only blockchain projects. The two main award-winning devices are Ucam and Pebble Tracker.
IoTeX Hardware Devices
Ucam 
It is basically just a CCTV camera, but its difference and advantage is that it works using blockchain technology. Therefore, compared to, for example, iOS devices connected to the Internet, a solution such as Ucam is more secure. Such security is provided by requiring a private key from a crypto wallet to manage the device. In addition, data is encrypted before being sent to the cloud and can only be decrypted by the owner of the private key.
Pebble Tracker
Another device is designed to collect real-world data, such as temperature, light, humidity, location, etc. Its priority over GPS technology also lies in safety. There is no central point of failure, so hacking is excluded. Pebble Tracker is mainly seen as a business and logistics-friendly device, but the potential could be much wider.
Technologies
The IoTeX network uses the DPoS consensus mechanism (Delegated Proof of Stake). It is similar to the regular Proof of Steak, but with a few differences. Under the usual mechanism, all participants in the network have the opportunity to confirm the consensus based on how many tokens they staked. There is also a limited number of delegates who are engaged in the block creation process. The rest of the users vote for delegates and receive a share of the reward if their chosen delegate created the block.
IoTeX tokens
In order to participate in reaching consensus by the network, it is mandatory to stake IoTeX (IOTX) tokens. The IoTeX token was launched in 2018 but has only become available for staking since 2020. An interesting fact is that it was originally launched on the Ethereum blockchain, and only in 2020 was moved to its own IoTeX network. However, it is still technically compatible with Ethereum. The current blockchain is very similar to Ethereum, but with faster block creation and lower traditional fees.
IOTX token is required for all activities on the network. For example, for the transfer of funds, network management, as well as for the use of cross-chain bridges and decentralized applications.
IoTeX is a deflationary token using a burn mechanism. About 90% of the total supply will be incinerated as more people and their devices connect to the network. The mechanism works through a smart contract that runs every time new devices join the IoTeX network.
Differences between IOTA and IOTX – IOTA vs IOTEX
Having examined each coin separately, we saw that although they have one global mission – to implement their projects in IoT, their goals and ways for achieving them differ. Their performance in the crypto market, including value, trading volume, market capitalization, and others, also varies. 
We have chosen the main points, based on which we compare both cryptocurrencies. It is high time for a 6-round IOTA vs IOTX battle to determine the winner for your portfolio!
Before we get started, it is essential to note that for every investor, any cryptocurrency can be a winner. What suits one person doesn't necessarily suit another one. Therefore, by considering below some of the factors that you should pay attention to when selecting a currency, you can decide what is right for your goal and investment strategy.
1) Security
Security is perhaps the most crucial aspect in selecting a currency for investment. All cryptocurrencies have protective mechanisms, as well as security holes that hackers look for. We have already considered earlier how many such vulnerabilities were in IOTA as a result of which investors lost their savings.
Still, it is worth recognizing that the development team has been working hard to improve network security over the past few years. The latest network update ensures that it is now reliable and secure. In addition, IOTA 2.0 DevNet became fully decentralized after the removal of the coordinator. This should also add reliability to the network.
Anyway, IOTA's vulnerabilities have gone sideways more than once, and the new upgrade still needs to be tested for security.
The IoTeX project has not been noticed in the high-profile stories of money or data being lost by its users. Besides the protection provided by the blockchain technology itself, IOTX uses security arrangements, including ring signatures. 
The delegated Proof-of-Stake consensus mechanism guards the security and keeps the IoTeX platform running. According to the delegate program, each user who wishes to join it must meet a number of requirements. Delegates are elected by the IOTX token holders and are in charge of maintaining consensus, spreading information, organizing social initiatives, and much more.
Round 1: Winner – IoTeX
2) Liquidity
Сrypto liquidity basically refers to its ability to be converted into cash. This property is very important both in investing and trading activities. Indeed, in both cases, it is critical to be able to trade a crypto at the current market value at any time. Therefore, you should look towards high-liquid tokens. Otherwise, those who are not interested in the asset you own will agree to purchase it, perhaps at a very disadvantageous price for you.
To find out the liquidity level of IOTEX or IOTA, take a look at the daily trading volume of these tokens.
At the moment of this writing, IOTA's 24-hour trading volume is $17,551,224 and IOTX's 24-hour trading volume is $26,258,212. The difference is $8,706,988. And this means that in the second round, IoTeX unconditionally wins.
Round 2: Winner – IoTeX
3) Reputation
Needless to say, how important reputation is. It affects the trust of users who will not rush to give their money to a crypto brand with a dubious reputation.
As you already know, IOTA's reputation has suffered due to a number of network security vulnerabilities. And the company team did not always behave in a decent way, trying to hide the shortcomings of their project and threatening those who revealed them.
However, it can be seen that over the past years, IOTA has taken care of clearing its name. The roadmap shows positive changes in the properties of the network, which the developers are working hard on. Major companies have joined the IOTA partners, including Microsoft, Volkswagen, Bosch and many others. If they trusted the project, then not unreasonably.
Besides developing unique solutions for network applications, IoTeX is known for its tangible hardware devices, some of which have been awarded. And while the project does not boast the unique technology behind it, like IOTA with its DAG and Tangle, the blockchain that powers IoTeX is familiar but reliable. Thus, there is nothing in the IoTeX record that could undermine the credibility of the project.
Round 3: Winner – IoTeX
4) Availability
If liquidity mainly refers to the number of people willing to buy an asset you own, availability is about the number and reputation of places where you can make a deal. Digital money can be sold / bought on various crypto exchanges and trading platforms. And the more marketplaces where you can purchase or get rid of a particular token, the more preferably. First of all, it's convenient. Secondly, listing on exchanges, especially popular and respectable ones, indicates the popularity and reliability of the coin.
Comparing the level of availability, in particular of IOTA and IOTX tokens, it is difficult to determine the winner in this category, since both projects are supported by popular exchanges and trading platforms.
According to Coinranking, the IOTX coin is listed on 21 exchanges, including such giants as Binance, KuCoin, Gate.io and others. The most popular pairs are IOTX/USDT, IOTX/BUSD, IOTX/ETH and IOTX/BTC.
You can trade IOTA, or rather MIOTA, on 17 exchanges, including Binance, Huobi Global, Gate.io, Upbit and others. Popular pairs: MIOTA/USDT, MIOTA/USDT, MIOTA/BTC, MIOTA/USD, MIOTA/EUR, MIOTA/ETH, MIOTA/KRW and others.
Therefore, IOTX is slightly ahead of its competitor in terms of availability.
By the way, for those who are looking for a reliable trading platform without registration and transaction limits, both IOTA and IOTX are available on Godex.io.
Round 4: Winner – IoTeX
5) Price
Price is the first thing that is always drawn to when buying or selling. The same applies to the crypto market, where the rate is a kind of indicator of whether to sell or buy a particular coin. In addition, price chart analysis can tell how stable and reliable an asset is. Some analysts even dare to predict the future of cryptocurrencies based on historical price data. Therefore, rate is an important indicator in investing.
At the time of this writing, the currency market is going through a harsh crypto winter. Bitcoin reached its lows in a year and a half. The cost of altcoins also went down rapidly. Therefore, in view of our topic, let's consider which IOTX or IOTA coin is doing better in these challenging times.
It should be noted that even before the beginning of the crypto winter, the cost of IOTX and IOTA coins was low, so any investor with a small budget could afford to buy these assets. At the beginning of 2022, 1 MIOTA was trading at $1.41, and at the moment of writing, its price has dropped to $0.25. In early 2002, IOTX was worth $0.12 and is currently worth $0.024 per coin. 
Historical price data shows that IOTA is winning this round, bringing more profit to its investors.



Round 5:  Winner – IOTA
6) Market Capitalization
Market capitalization is a cumulative assessment of the value of the shares issued by a company. In other words, capitalization represents the total value of shares. As the company's market value grows, its investment attractiveness automatically increases. It follows that market capitalization serves as a certain indicator that indirectly illustrates the level of investment attractiveness of an organization.
Here we can immediately conclude that IOTA with a market capitalization of $704,097,296 beat IoTeX, whose market cap is only $235,981,512.

Round 6 – Winner: IOTA
Final Words
Judging by the number of wins in 6 rounds, IoTeX scored more points. However, this does not mean that IOTA will be a worse investment option. On the contrary, many major crypto players prefer IOTA. That is attributable to the fact that it brings them more profits. Figures play a key role in investing, and in this regard, IOTA clearly looks better in the crypto market. The market cap and price pattern trump some of the security and team behavior issues in the past.
Therefore, victory in IoTeX is very relative, and should not be a rigid guideline in the choice of investing in IOTA or IOTX coins. Everyone should decide for themselves what will play into their hands, taking into consideration all the above factors.
FAQ
Is IOTA the same as IoTeX?
No, IOTA and IoTeX are different crypto assets that build their networks using completely different technologies, and also have different projects, goals and methods to achieve them. Their market performance is also different. Globally, both projects are united by the IoT area, where they implement their solutions.
Is IOTX a good investment?
IoTeX is a promising currency that opens up opportunities for its holders to create blockchain-based IoT solutions. Therefore, if you are interested in this activity, trading or short-term investment, buying IOTX may be a good option. The coin does not show great prospects in a long-term investment, so it is better to look for another asset for such purposes.
It is also important to remember that any investment can go bad.
Is IOTA a good coin to buy?
Like IOTX, IOTA is a great asset for those who want to make their mark in the IoT industry. Recently, the development team has been working on a number of projects aimed at improving the ecosystem, which will undoubtedly add value to IOTA.
The properties of cryptocurrency have proven that it can be beneficial for IoT solution developers, traders and investors, including long-term ones.
However, keep in mind that even buying a good coin like IOTA is a financial risk.
Start a Cryptocurrency exchange
Try our crypto exchange platform"
Exchange
Disclaimer: Please keep in mind that the content of this article is not financial or investing advice. The information provided is the author's opinion only and should not be considered as direct recommendations for trading or investment. Any article reader or website visitor should consider multiple viewpoints and become familiar with all local regulations before cryptocurrency investment. We do not make any warranties about reliability and accuracy of this information.