This article is dedicated to the top 9 most profitable crypto coins in 2020. Digital coins have become the quickest way of making gains. The success of digital coins relies on such indicators as high liquidity, a stable rate, market capitalization, perspectives on further development and reputation of the founders. Beside two most profitable crypto monsters like Bitcoin (BTC) and Ethereum (ETH) there are other potential altcoins worth purchasing by investors in 2020.
The end of first quarter closing in 2020 was marked by Bitcoin SV (BSV), LEOcoin (LEO), ChainLink (LINK) and Tezos (XTZ) having showed top cost-effectiveness among popular altcoins with big capitalization.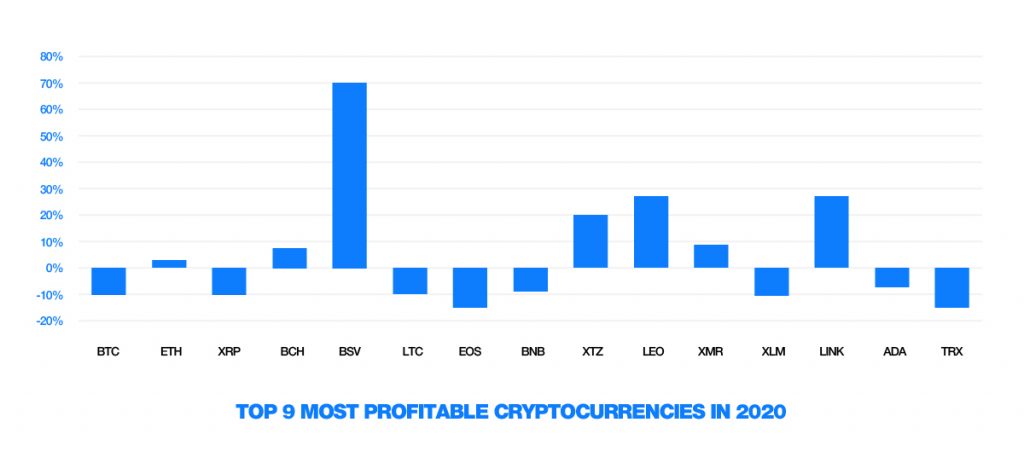 Bitcoin SV started the year with at $ 95.5, and in 3 months showed a phenomenal growth of its rate by twice, holding sixth place among all digital assets in terms of capitalization. But according to many experts, Bitcoin SV can only be considered as a speculative tool and a profitable crypto based on a short-term rate change. Bitcoin SV (BSV) appeared in November, 2018 resulting from the hard fork of the Bitcoin Cash blockchain. SV means "Satoshi Vision". Bitcoin SV creators used Bitcoin white paper as a manual for development of crypto coins. Bitcoin SV is aimed at serving as the payment and exchange tool and following the founder`s statement smart contracts and other features are not repugnant to the Satoshi's philosophy. The project task lies in the accessibility of its ideas and principles to ordinary people.
LEOcoin project is developed as digital money which can globally become a highly-demanded financial tool along with currently existing experts` concerns on the relevance of the proposed ideas as well as profitability of a long-term investment. LEOcoin showed up in 2014 as an alternative to Lightcoin. In 2016, the protocol was completely transferred to PoS, and in summer, 2017 the blockchain started working on the X11 algorithm. The main advantage of LEOcoin is a messenger integrated into the wallet's set of functions, allowing communicating confidently within a decentralized system. This platform supports payments of travel expenses, services in some stores, booking hotel rooms being very active in the elite real estate market. LEOcoin is actively used as a paid -up method by 100 thousand platform users from more than 120 countries.
LINK growth is mainly expected in 2020. Intelligent technologies and independent operations of this coin attract investors as a long-term perspective. Chainlink platform develops middleware between external data and smart contracts for the purpose of their promotion and capability extension via blockchain-based technology. Analysts think positive about ChainLink platform ability and the investments into LINK will bring a good return from the long-term perspective.
XTZ expects a gradual rise taking into account that investor`s interests still exist and this profitable cryptocurrency is distinguished as a tool of long-term investment. Tezos has appeared not in the result of a fork or additional level of existing blockchains. Uniqueness of the platform blockchain lies in its development from scratch. The system program code is open and each user can take part in its upgrade. Modular architecture and formal update mechanism enables evolution of new technologic. Tezos product uses smart contracts and remains an attractive investment opportunity enabling to solve management problems, which are peculiar to many blockchain projects.
This digital coin was launched in 2017 after the hard fork of the primary Ethereum platform into two digital currencies, i.e. Ethereum Classic (ETC) and Ethereum (ETH). Ethereum Classic uses smart contracts. ETC is used for payment of calculations while mining and for creation of digital assets (tokens). Any ETH wallet can serve as an ETC wallet. Ethereum Classic has a number of advantages over Ethereum (ETH) such as work stability, high protection level and support from the top trade exchanges. Experts predict ETC rate growth and engagement of potential investors in 2020.
ZEC forecasts for 2020 are positive. Experts are confident that in the upcoming years ZCash has every chance of becoming a backup profitable crypto for the users who want to keep information of the fund transfers private. ZCash was released in October 2016. The platform is very convenient for trading and selling activity in terms of low commission which transactions are impossible to track. ZCash uses zk-SNARKs cryptography in order to provide encryption of all the data that uses zero-knowledge proof. ZCash blockchain does not store information about user`s keys, therefore the network and user`s wallets remain more protected.
Do you have any doubts whether Dash is a profitable crypto to mine in 2020? Obviously, it is. Taking into account the current COVID-19 pandemic outbreak and the notified fact that paper money carries threat of virus transmission Dash is one of the best solutions to conduct contactless payment transactions. To some extent, Dash can be called a fork of Bitcoin, as the coin uses its source code. Dash protects your personal data keeping transactions anonymous while using the network technology known as DarkSend. It has the following advantages such as speedy transactions, decision making according to the principles of decentralized systems (DAO), InstantX payment support system.
Grin was launched in 2019 having similar backgrounds for its appearance with the known altcoins such as ZCash and Dash. It had been targeting on the Bitcoin network scaling, but due to existing challenges in its implementation, a separate digital coin was created. The developers implemented MimbleWimble consensus protocol and created a scalable and profitable cryptocurrency and thus, transactions occupy a minimal memory so an outside observer cannot track them. Grin rate is currently around USD 1, but, there is still a lot of room for growth depending on project enlargement and marketing activities.
Nowadays Ravencoin is more popular than ever, it is a subject of discussions by both miners and traders. 
Ravencoin is a digital P2P asset transfer with its own X16R hash algorithm. This Bitcoin hardfork appeared in 2018 under the influence of the Game of Thrones. Ravencoin developers give a special attention to the publicity of the source data and emphasize that anyone can take part in the improvements of the coin features as all the resources and codes are open. The platform constantly integrates new features into its ecosystem based on the modern digital developments. At the user`s level, developers are aimed at the convenience of the Ravencoin wallet, speedy transaction and possibility of strictly confidential correspondence via already built-in messenger. Ravencoin is сonsidered as a beneficial long-term investment. The price forecast for 2020 mark this year to be extremely successful for the coin.
With Godex.io you make a quick purchase of more than 210 cryptocurrencies without any restrictions of exchange volumes. Users may do it anonymously without registrations and therefore feel protected from any market fluctuations exchanging cryptocurrencies with a fixed rate.
Start a Cryptocurrency exchange
Try our crypto exchange platform
Exchange
Disclaimer: Please keep in mind that the content of this article is not financial or investing advice. The information provided is the author's opinion only and should not be considered as direct recommendations for trading or investment. Any article reader or website visitor should consider multiple viewpoints and become familiar with all local regulations before cryptocurrency investment. We do not make any warranties about reliability and accuracy of this information.