Everyone who goes online has heard about VPN, i.e. to open a blocked site, download a torrent. VPN or Virtual Private Network allows you to create a secure connection to another network over the Internet. A VPN can be used to access region-restricted websites to protect your browser from prying eyes on public Wi-Fi, etc. As privacy is a growing concern, it makes sense that more and more users are turning to VPN services to protect themselves. After all, we transfer a lot of personal information from devices and do not want anyone to gain access to this data. VPNs are known for protecting users' privacy by encrypting their device traffic, routing it through anonymous networks, and hiding the user's identity. 
Different VPN providers may have different characteristics such as the degree of encryption, hiding the fact of connecting to the server, storing logs (a log that stores information about the sites visited, real IP addresses, etc.) and cooperation in providing information to third parties. If the VPN provider does not record logs at all, then there is simply nothing to transfer to third parties. And hiding the fact of connection to the server is already a rarer service. If the connection is incorrect or the connection is abruptly broken, some data may leak.
If you have not thought it over yet, then decentralization is absolutely the way to go whether it's your VPN or the Internet as a whole. If you haven't heard of DVPNs, i.e. decentralized VPNs, the Orchid product with its OXT token is worth your consideration.
What is OXT crypto?
The Orchid Protocol is designed to give digital privacy utilizing a peer-to-peer, stimulated network. Using the Orchid Token (OXT) you can buy and sell bandwidth, which allows browsing sites and access content outside of their geography. Thanks to its decentralized design, layered architecture and open-source principle, Orchid offers users "unprecedented digital privacy in a context of lack of trust." 
If you glimpse at the Orchid protocol, how it structures everything from the app to the token itself you will become convinced that it's actually incredible and it's built on a layer of Ethereum like most of these projects. 
Its protocol is a decentralized VPN marketplace where Orchid node operators provide bandwidth to users who require anonymity. Orchid aims to improve the current model of open private Internet access championed by I2P and Tor, which relies on the goodwill of volunteers to host relays and exit nodes, creating an incentive model for users to provide these services online.
 This design resembles the Tor routing network, except that users reimburse bandwidth providers for their services with OXT. While tokenomics is not suitable for most use cases, Orchid insists that its model is more robust than Tor's reckoning on clients` altruism. Node operators also use OXT by hosting it on the network, which allows them to receive users` traffic requests in proportion to their share.  
Thus, it's an open source smart contract that's been independently audited by multiple outlets, this is a serious piece of technology that has changed the way we utilize VPN.  It's been audited by multiple auditors in terms of the smart contract and the project utilizes nano payments. Why are nano payments important? You pay for the bandwidth that you use and you are going to have nodes for utilising the technology and you will be able to download the app like you are used to with any other VPN. Also to be a node you have to stake it. So it is a Proof of Stake model. 
Orchid Technical Analysis
Orchid is currently worth $0.1171. Over the past 24h, it has decreased by $0.005183, in percentage terms by 4.23%. The trend of the Orchid market is showing trading with bullish price action. Technical analysis gives 10 bullish signals versus 6 bearish ones over the past day. Therefore, most likely, now is not the best time to sell the Orchid cryptocurrency.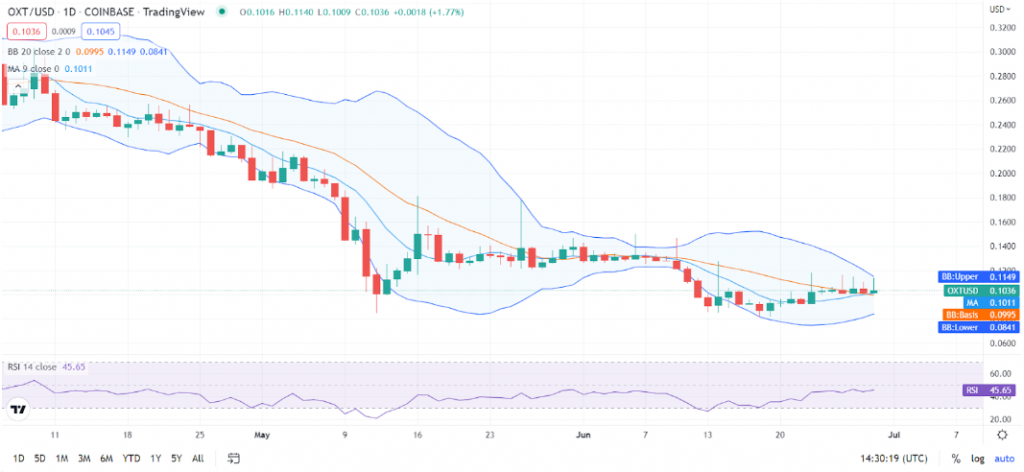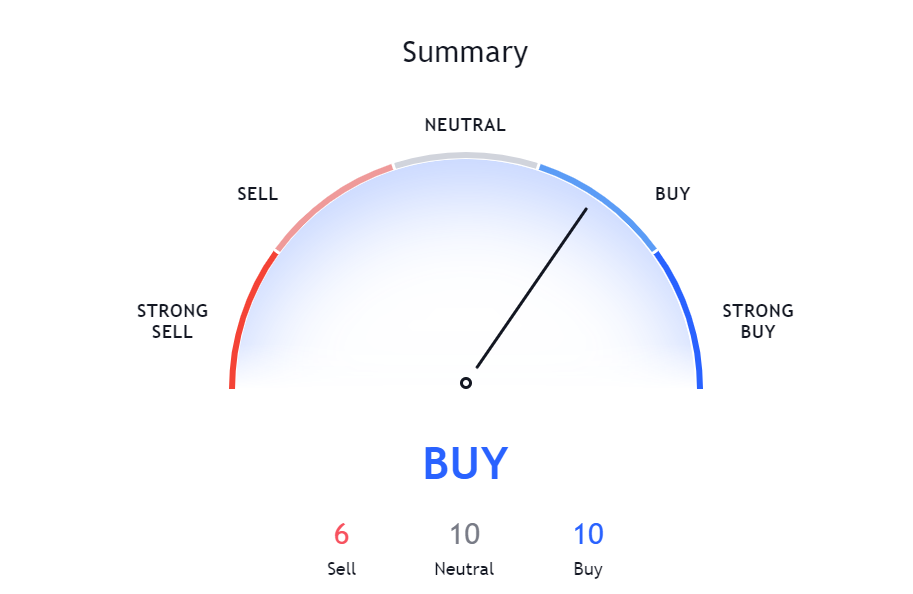 Is it impossible to buy OXT coin?
OXT was traded for the first time on Dec 16, 2019. The total emission is 1,000,000,000 coins. As of now, OXT has a market cap of $ 387,460,233. The current price of OXT is $ 0.3882 and it is ranked 184th on Coinmarketcap.
OXT has been listed on a number of cryptocurrency exchanges such as Binance, Kraken, Gemini, and Coinbase Pro, with cryptocurrency, stablecoin and fiat currency pairs available. You can then withdraw your coins to a secure software or hardware wallet for storage.
You can purchase Orchid (OXT) via Godex in a very favorable and simple way:
Just go to the Godex Home page with the online converter, select the required crypto pair on the inbuilt converter, for example, BTC to OXT, the required amount of BTC for sale and specify the correct OXT wallet details. 
Carefully check the exchange order, send the BTC amount to the deposit address which Godex creates automatically, and then you may proceed with the conversion by clicking the "Exchange" button. 
Orchid token forecast for long term
Orchid OXT price predictions mainly indicate that OXT price is likely to overtop $ 2 on the edge of the decade, outshining the previous record of $ 1.0200. For the longer term, DigitalCoin projected that OXT value could get to the ordinary mark $ 2.33 in 2028, culminating at $ 2.57. As stated by CaptainAltcoin's prediction model OXT cost in 5 years could get to $ 1.93.
Should you invest in OXT?
If you are interested in this issue, then for sure you are considering the opportunity to open a new source for investment, in which it will be promising to invest money in 2022. This is quite normal because the pandemic has once again proved the need for us to have a stable passive income, which in the event of another lockdown will not leave us without a livelihood. Investing in cryptocurrency is one of the most popular and most actively developing areas.
Most people only hear about Bitcoin and believe that it is worth investing only in it. In fact, this is absolutely not the case. There are less popular but no less profitable cryptocurrencies.
Since its launch, Orchid has revolutionized several sectors. The coin has been approved by many regulators, and a dedicated development team is working hard to promote it and raise the degree of acceptance. The OXT cryptocurrency can be a great investment as it is still relatively immature and its price could shoot up when it gets as far as its entire potential. Orchid OXT can be considered a good lengthy investment option. 
We should admit that now we have alternatives to centralized VPN services. Online privacy is becoming a scarce commodity and placing our trust in traditional VPN providers is risky and Orchid Protocol itself has some pretty advanced technology. i.e. a new VPN protocol, probabilistic nano payments, stake waiting, the list goes on. Moreover, the project seems to have some pretty experienced team members who have been around the blockchain. This experience extends beyond blockchain technology as they have worked on other open source projects and they are well regarded in the broader investors` community. The team also tapped some external brains when it came to auditing their OXT smart contracts.
It would be remiss not to mention some of the challenges that are faced by the project. Firstly you have to wonder how likely the average VPN user is to switch to Orchid. How much simpler are they really making the user's experience? Large VPN providers have developed pretty strong offerings with a multitude of servers in hundreds of locations around the world that are so easy to use. So, the adoption of Orchid won't be simple and quick. Another concern that we have regarding OXT is that the trading is still incredibly volatile and it is restricted to a small number of exchanges.
Beyond the project, there is something that can help pave your future to pull back your identity. We are heading towards a world with social care and this is a tool that can help combat that. This project is very interesting for the research and maybe it will lead you down the rabbit hole in decentralization and privacy, so you can start understanding how important privacy is.
Privacy should be a lifestyle. When somebody asks you your name and your phone number, your email address you shouldn't just give it out willy-nilly, you should question it. If you can start decentralizing on them like with OXT and some of these are the projects it starts allowing you  to take some of your privacy back to a better quality of life, to live a safe life.
| | | | |
| --- | --- | --- | --- |
| Year | Minimum Price | Average Price | Maximum Price |
| 2022 | 0.000928 | 0.00095873 | 0.0012 |
| 2023 | 0.0011 | 0.0013 | 0.0020 |
| 2024 | 0.0021 | 0.0025 | 0.0028 |
| 2025 | 0.0033 | 0.0036 | 0.0039 |
| 2026 | 0.0044 | 0.0047 | 0.0052 |
| 2027 | 0.0060 | 0.0066 | 0.0071 |
| 2028 | 0.0092 | 0.0094 | 0.01002 |
| 2029 | 0.012 | 0.0126 | 0.0131 |
| 2030 | 0.0187 | 0.0192 | 0.021 |
OXT coin price prediction 2022
Following Orchid future Price Prediction estimates, by 2022 OXT may gain an uttermost value of $ 0.67. OXT is prognosed to reverse slightly if the market goes down. The year 2022 could end with the OXT typical rate of $ 0.58, a least probable value of $ 0.56 and an uttermost price of $ 0.67.
CoinArbitrageBot envisaged that the typical OXT cost could amount to $ 0.544 in 2022. Wallet Investor forespoke that the coin might jump up to $ 0.665 by the 2022 year-end. In the limited term, DigitalCoin's Orchid coin price prediction evinces that OXT cross price could stand up to normal of $ 0.93 in 2022.
Orchid token price prediction 2025
The estimate for the OXT medium-cost at the turn of 2025 could be framing $ 1.81. Due to BitcoinEthereumNews.com Orchid price prediction 2025, the OXT price is predicted to fall to $1.91 in 2025, but might culminate at $ 2.22 with a standard target price of $ 1.96.
As a part of technical review CoinArbitrageBot OXT price prediction 2025 foretold that the OXT cryptocurrency price could be midpoint of $2.65 in 2025.
Wallet Investor extrapolated that the coin could get as far as $ 1.07 by 2025. The OXT crypto price prediction from DigitalCoin reckoned that the coin could be rebelling to $ 1.52 in 2025.
Orchid (OXT) crypto price prediction 2030
Although there are not many long-term forecasts, since technical analysis works better with short-term prospects, analysts from Price Prediction have a vision for the future of the Orchid coin. They believe that under favorable market conditions and the continued interest of the crypto community in the digital asset, the OXT coin has every chance to skyrocket to $3.50 by the end of 2030. Then ROI will be 2881%. 
The average coin price during the year will be $2.20 – $2.93, and the expected minimum value of Orchid at the beginning of that year could be $2.01, and $2.84 by the end of that year.
Conclusion
Crypto analyst predictions make it clear that the Orchid coin can be a good long-term investment that will bring multiple profits in the future. However, these are only predictions that may not be fulfilled. Therefore, everyone should take into account the current situation on the market, analyze it and make a decision taking into account possible risks.
FAQ
Where can I buy OXT?
Orchid is a common cryptocurrency that is traded on most major exchanges including Godex, Binance, and Coinbase.
Will Orchid prices drop/fall?
Analysts' forecasts predict an increase in the OXT coin's rate. However, due to the volatility of cryptocurrencies and the instability of the current market, the price may fall at any time.
Is OXT a worthwhile investment for 2022?
The Orchid cryptocurrency has a high degree of acceptance and investor interest in it. In view of the crypto crisis, this coin is unlikely to bring a quick profit. However, as a long-term investment, it can fit. In any case, it is risky to invest in any digital currency.
Start a Cryptocurrency exchange
Try our crypto exchange platform"
Exchange
Disclaimer: Please keep in mind that the content of this article is not financial or investing advice. The information provided is the author's opinion only and should not be considered as direct recommendations for trading or investment. Any article reader or website visitor should consider multiple viewpoints and become familiar with all local regulations before cryptocurrency investment. We do not make any warranties about reliability and accuracy of this information.