In the crypto industry, a bunch of altcoins has been dubbed the "killers of Ethereum", but many of them have faded into oblivion over time. However, this is certainly not true of Avalanche, which rightfully bears this title and is considered to be one of the most potentially profitable investments to date. Solana is also looking to fix the shortcomings of ETH and has a strong foothold in the crypto realm.
Since both Avalanche and Solana offer solutions for DeFi projects and also want to outperform other crypto projects in an attempt to solve the problems that come with decentralization and scalability, they are often compared. We also decided to put AVAX and SOL on the scales, weighing their properties.
But before we proceed to our Avalanche vs Solana battle, let's take a quick look at each coin and its features.
What is AVAX?
AVAX is the ticker for the Avalanche altcoin, which was released by Ava Labs in 2020. As a native token of the Avalanche platform, AVAX supports blockchain operation. The coin can be used to trade, pay transaction fees, reward validators for their services, and make online payments.
The Avalanche platform enables the development of DApps and smart assets in a fast, secure and permission-free manner.
Avalanche is unique in its architecture. Unlike other platforms that usually have a single blockchain, the Avalanche ecosystem consists of three blockchains: X-Chain, C-Chain and P-Chain. Each blockchain performs a specific function on the network.
Advantages and Disadvantages of AVAX
| | |
| --- | --- |
| PROS | CONS |
| High transaction speed (comparable to VISA payment system) | Strong competition from the rest of the altcoins including Ethereum |
| | |
| | Costly to become an Avalanche validator (2,000 AVAX coins) |
| Interoperability with other blockchains | |
| | |
| Well-thought-out token economy, including artificial scarcity | |
| Energy efficient, which means eco-friendly | |
| Passive earnings via staking | |
What is SOLANA?
Solana is an open-source blockchain platform that was founded in 2017. The key feature of the Solana blockchain is its high throughput and transaction speed. And if Avalanche's transaction is speedy, like a Mustang, then Solana's one is lightning-like.
All processes on Solana's single-tier platform run according to a hybrid consensus that consists of Proof of Stake (PoS), backed by Tower Consensus and the Proof of History (PoH) protocol. This innovative system helps Solana achieve throughput that surpasses most competitors.
In addition, the platform is an ideal environment for building decentralized apps using the Rust programming language and developing tools for DeFi startups.
Solana has a native token (SOL) that can be used as a peer-to-peer digital value and for payment of transaction fees.
Advantages and Disadvantages of SOLANA
| | |
| --- | --- |
| PROS | CONS |
| Innovative Consensus Protocol | Strong competition from the rest of the altcoins including Ethereum |
| Lightning-like transaction speed (outperforms VISA payment system) | |
| Nearly zero transaction fees | Good hardware setup is relatively expensive |
| | |
| Protection against threats such as "double spending", Sybil attacks, etc. | |
| Well-thought-out token economy, including artificial scarcity | |
| Energy efficient, which means eco-friendly | |
| Composability between projects through a simple one-tier system | |
| Passive earnings through staking | |
How Are Avalanche And Solana Similar?
Scalability: both Solana and Avalanche are aiming to provide a decentralized framework by greatly increasing scalability.
Open-Source: Open-source platforms for Dapps development.
Multipurpose Uses: These are both cryptocurrencies and a utility token, and they have a variety of uses. For example, network security through staking, paying for gas, participating in governance and sending money between nodes.
Limited supply: AVAX has a limit of 720 million and SOL has a limit of 489 million tokens.
How Are Avalanche And Solana Different?
 Solana vs Avalanche: Price Data Difference
| | | |
| --- | --- | --- |
| | Solana | Avalanche  |
| Current Price | $36.67 | $15.18 |
| CoinMarketCap ranking | #9 | #16 |
| Market Cap | $12,626,304,339 | $4,279,887,377 |
| Circulating supply | 342 077 485 SOL | 280 977 028 AVAX |
| 24h trading volume | $1,078,498,678 | $1,139,677,158 |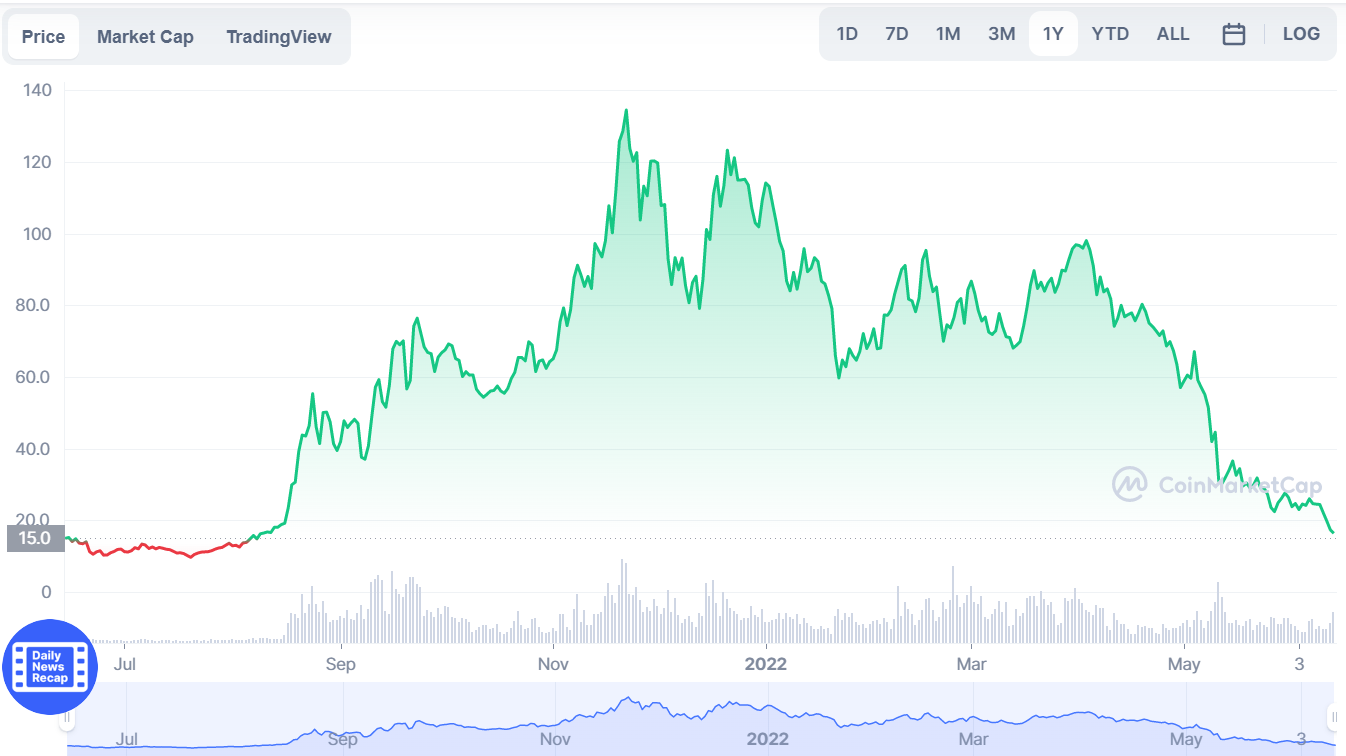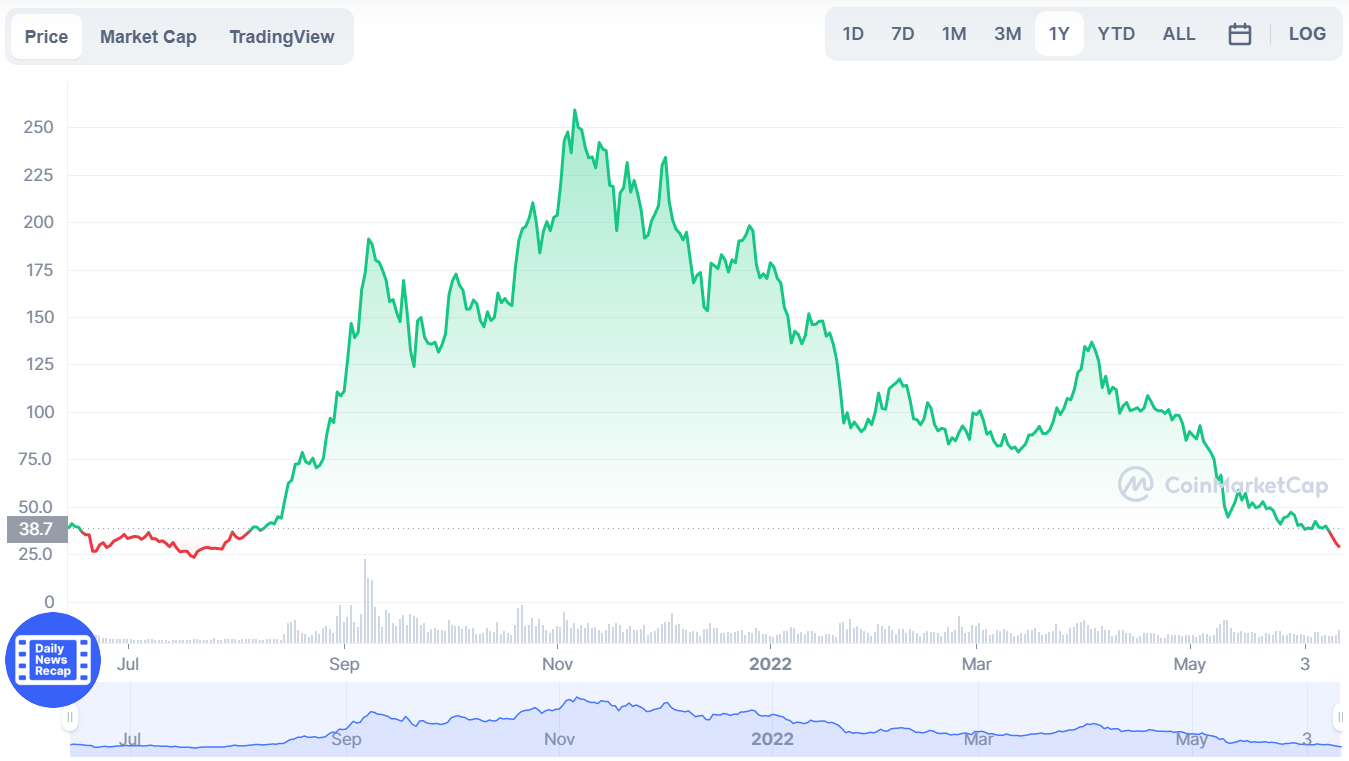 Solana vs AVAX Blockchain Platforms
| | | |
| --- | --- | --- |
| | Solana  | Avalanche  |
| Foundation | 2017 | 2018 |
| Architecture | Single blockchain platform. | There are 3 blockchains: the Contract Chain (C-Chain), Platform Chain (P-Chain) and Exchange Chain (X-Chain) that build one ecosystem. |
| Consensus Technology | Implemented a hybrid consensus: a combination of Proof of History (PoH) and Proof of Stake (PoS). | The network does not have a consensus-building core, thus achieving full decentralization. Implemented a Directed Acyclic Graph (DAG) consensus protocol and a Snowman consensus protocol. |
| Number of node validators | 1788 | 1200 |
| Annual Percentage Yield (APY) | up to 12.3% | 10% |
| TPS | 65,000; an upper peak of over 710,000. | 4500; with high-spec machines, up to 15,000 per chain. |
| Fees | $0.00025 | $0.032 |
| Block time | 0,4 second | 1-5 seconds |
| Interoperability | It is not interoperable. | Interoperable as it can share and exchange data across three of its blockchains. |
As you can see from the Avalanche (AVAX) vs Solana (SOL) table, both coins outperform each other in some way. Solana is ten times faster than Avalanche. But let's not forget that the latter processes smart contracts in less than a second.
In addition, due to the fact that the AVAX network does not have a consensus-building core such as Proof of Work (PoW) or Proof of Stake (PoS), Avalanche is completely decentralized. Solana is suspected of being more centralized, making its blockchain vulnerable.
CONCLUSIONS
The verdict of the Avalanche crypto vs Solana study is that both crypto assets are definitely worth attention. They offer amazing solutions for DApps and DeFi, and outperform major pioneers like Ethereum and Bitcoin in transaction speed and cost.
There are some questions for Avalanche about the lack of slashing rules. And there are also concerns about sufficient decentralization of the Solana network. But there is always something that needs to be worked on.
FAQ
Is Avalanche a good blockchain?
Yes, the Avalanche blockchain is unique, valuable, and has a lot of virtual and real-world uses. For example, the consulting company Deloitte will use the Avalanche blockchain to build more efficient platforms for disaster relief. And it's not the only company willing to partner with Avalanche to take advantage of its ecosystem.
The technologies in the AVAX platform have proven useful for decentralized finance (DeFi), decentralized applications (DApps) and non-fungible tokens (NFTs).
Is Solana a good investment?
At the time of this writing, a dark cloud covered the entire crypto market. The Bitcoin exchange rate has fallen to a record level over the past year and a half, dragging other cryptocurrencies with it. Solana's price also fell by 7.2% and is the lowest it has been in three months. 
However, Solana is in the top 10 cryptocurrencies, has an excellent development team, a close-knit community and many projects that are waiting to be implemented. However, investing in any cryptocurrency is a risk. Therefore, invest in Solana as much as you can afford to lose.
Is Avax a good investment?
Avalanche has dropped 15.57% in the last 24 hours. This may be a signal to buy an asset in order to win on the growth of the rate. Conversely, if there are indications that the crypto you have invested in is going to crash, it is better to sell your assets before it is too late.
However, investing in digital currency is risky, even if the coin is considered to be very promising. So invest wisely.
Start a Cryptocurrency exchange
Try our crypto exchange platform"
Exchange
Disclaimer: Please keep in mind that the content of this article is not financial or investing advice. The information provided is the author's opinion only and should not be considered as direct recommendations for trading or investment. Any article reader or website visitor should consider multiple viewpoints and become familiar with all local regulations before cryptocurrency investment. We do not make any warranties about reliability and accuracy of this information.