March 2022 was marked by the appearance of the digital asset ApeCoin (APE) on the Ethereum blockchain. The cryptocurrency is inspired by the Bored Ape Yacht Club (BAYC) NFT project by Yuga Labs.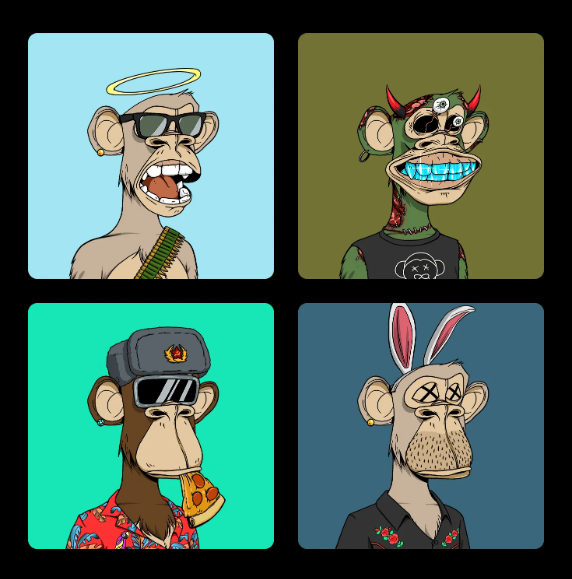 For the uninitiated, BAYC collection consists of 10,000 non-fungible tokens (NFTs), each of which is an image of an eccentric, "bored apes" representing a wealthy crypto investor. By purchasing one of the Bored Apes tokens, the cheapest of which is worth around $100,000 at the time of writing, an investor is getting a membership to an elite virtual yacht club. There he or she will join the celebrities, including Madonna, Justin Bieber, Eminem and Paris Hilton.
The image of the funky "apes" from the NFT collection of the virtual yacht club has become extremely popular on social platforms. The celebrity-fueled popularity of the project prompted the community to invest in its BAYC NFT and APE token assets. And as is usually the case, token prices skyrocketed and then collapsed, leaving investors frustrated. And some were very angry. Among them is law firm Scott+Scott, which has begun looking for other affected investors to file a class-action lawsuit against Yuga Labs. However, Yuga Labs claims they never created the token they are credited with, but ApeCoin DAO created it, which is starting to sound like a pump and dumps, or rug pulls method. Whether Yuga Labs dumped artificially high assets on the community or not, in general, token holders seem to be relatively unconcerned about a possible lawsuit.
But now you are probably worried about questions like: does the asset of the project, which was so actively promoted by celebrities, really have any value? And is ApeCoin worth investing in? Let's break it down by taking a look at APE coin price prediction by reputable crypto experts.
ApeCoin (APE) Price Analysis 
The price of the Ape token has been declining for the past five months in a row, losing over 80% of its value. At the time of writing, all technical indicators were showing a bullish trend for ApeCoin, with the APE/USD pair receiving a "buy" signal on most technical analysis platforms.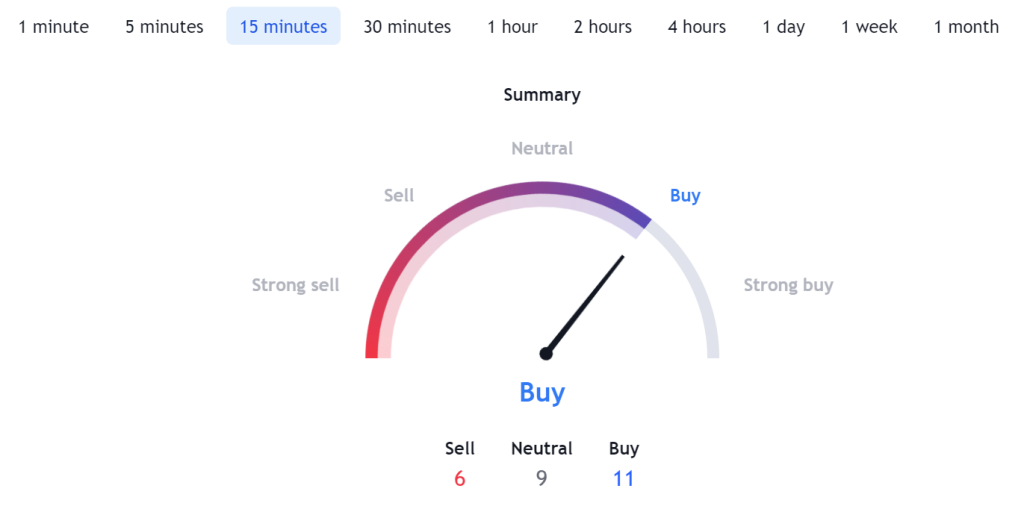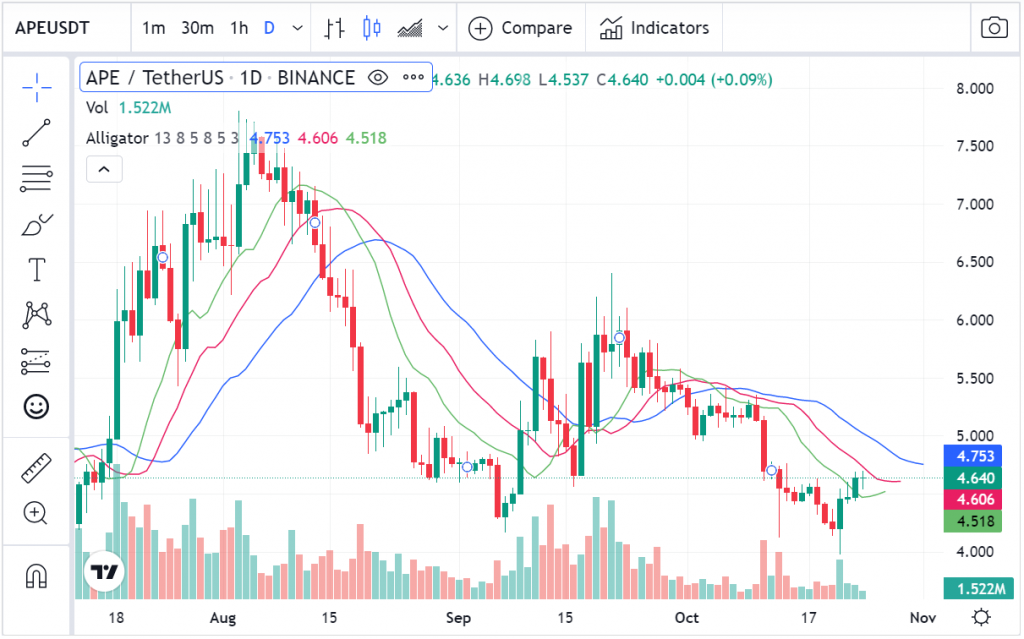 ApeCoin (APE) Price Prediction for 2022
DigitalCoinPrice
Resource experts expect minor price fluctuations of the APE token by the end of 2022. It can either go down to $3.9 or go up to $5.67 per coin. The average trading price of a coin is expected to be around $4.57.
TradingBeasts
The ApeCoin price is expected to drop to $4 by early November 2022, which is 12.25% lower than the current price (as of October 24). The maximum level that ApeCoin can reach is $5, and the lowest price at which the token will be traded is $3.45.
In December 2022, ApeCoin is also not expected to have an uptrend. The token will most likely be available for purchase or exchange at a price of $3.9. The estimated maximum price is $4.8, minimum is $3.3.
Gov Capital
The resource predicts price fluctuations around $4 – $6 per token in November and December. However, experts do not rule out the possibility that APE will go higher than $7 by the end of 2022.
PricePrediction
Using AI-based algorithms, resource analysts concluded that the coin is unlikely to be able to get higher than $5.25 by the end of 2022. Its floor price will be $4.85 and the average trading price will be $5.07.
ApeCoin (APE) Price Prediction for 2023
DigitalCoinPrice
According to ApeCoin price prediction 2023 by DigitalCoinPrice analysts, APE coin will be able to almost double its value (compared to current price) in a year, reaching a price of $8.37. There is an assumption that the asset may fall in price to $6.84 per coin, and the average trading price will be $7.44.
TradingBeasts
Resource analysts predict that ApeCoin will meet 2023 at a cost of $3.77, and will probably rise in price to $4.71. However, there is a possibility that the asset will fall in price to $3.2, which is about 40% lower than the price at the time of writing. Throughout the year, the asset will experience slight fluctuations in price from about $3 to $6, and is unlikely to go above $6.73 per coin.
Gov Capital
The experts of this resource have reason to believe that in 2023 the APE coin will show dynamic growth. So, it is expected that ApeCoin will meet the year 2023 with a cost of somewhere between $6 – $7 and in a couple of months the price will double. Month after month, the token will rise in value, and by the end of 2023, the price will skyrocket to about $21.
PricePrediction
The crypto analysts at PricePrediction forecast a slow but steady growth in the value of ApeCoin throughout 2023. The price of the token will not fall below $7.18, but it will not rise above $8.68 either. The average expected APE price is $7.44.
ApeCoin (APE) Price Prediction for 2024
DigitalCoinPrice
As for 2024, according to experts at DigitalCoinPrice, the APE coin value does not expect long-term fluctuations or sudden drops. Its expected price ranges from $9.03 to $10.72.
TradingBeasts
About the same opinion regarding the prospects of the ApeCoin token, experts at TradingBeasts, who predict a step-by-step growth in value throughout 2024. It is expected that the cost of one APE will not fall below $7.05, and the maximum growth that the token price can reach is $10.37.
Gov Capital
Analysts at Gov Capital continue to be bullish in 2025 as well, predicting that the price of the APE coin will range from $16 to $22 at the outset of the year. There will be a strong upgoing trend throughout the year. And in December 2024, investors who bought one coin in October 2022 for $4.5 will be able to sell it for $30.84 – $41.73. In the event that such a forecast comes true, it will bring 586% ROI to ApeCoin investors.
PricePrediction
Experts at PricePrediction are more restrained in their expectations, predicting that the price of an APE coin can easily reach the level of $10.70, but is unlikely to be worth more than $12.50 in 2024.
ApeCoin (APE) Price Prediction for 2025
DigitalCoinPrice
Here, experts do not see the prerequisites for a significant increase in the price of the ApeCoin token in 2025. The value of the coin is expected to rise slightly to $11.16 – $11.92. The maximum possible growth, according to analysts, will not exceed the price of $12.98.
TradingBeasts
According to experts at TradingBeasts, ApeCoin will enter 2025 at a price of $7.22 – $10.63137. And during the year, its price will undergo a slight fluctuation in the upward direction. In December, one APE will be valued at a minimum of $8.78 and a maximum of $12.92. The average trading price foreseen at the end of 2025 is $10.33.
Gov Capital
Gov Capital still has high expectations for ApeCoin, standing out from fellow crypto analysts who are more cautious in their predictions. 2025 will mean long-term fluctuations and sudden surges for the value of the token. It is expected that at the beginning of the year the coin will be available or exchanged for $30.76-$41.62, and by the end of 2025 its value will skyrocket to $68.13.
PricePrediction
Analysts at PricePrediction present a moderately optimistic ApeCoin price prediction 2025. According to their estimates, the price of the APE coin has every chance of reaching its maximum of $18.11, as well as falling to $15.17. The average trading price foreseen in 2025 is $15.70.
ApeCoin (APE) Price Prediction for 2030
Not all experts decide on long-term forecasts, since it is very difficult to predict how a cryptocurrency like ApeCoin will behave even in the near future. However, some platforms try to do this on the basis of deep technical analysis using artificial intelligence resources. So far, it's DigitalCoinPrice with its ApeCoin price prediction 2030 and the PricePrediction website. Both platforms present completely different predictions, so it's ultimately up to you to decide what to believe.
DigitalCoinPrice
A modest forecast from analysts at DigitalCoinPrice makes it clear that the price of the APE coin will not show a strong upgoing trend, but rather a step-by-step growth.  The coin's lowest price is expected to be $24.45, and the average trading price of the coin is $25.43. The maximum level that the ApeCoin price can reach in 2030 is $26.47.
PricePrediction
The optimistic forecast from analysts at PricePrediction promises that the minimum price of ApeCoin in 2030 will not be lower than $98.90, and possibly even reach $115.35, bringing its patient investors a good return. The average trading price expected in 2030 is $101.67.
ApeCoin (APE) Price History
Before buying ApeCoin, it is not enough to read price predictions alone. In order to assess the potential of a cryptocurrency, it is also recommended to analyze its past prices, as well as its current performance in the market and the project behind it.
ApeCoin is a highly volatile asset. According to CoinMarketCap, ApeCoin debuted on March 17th and on the same day managed to demonstrate its lowest price of $1 and its highest price of $39.40, which then immediately dropped to $8.52. Over the next couple of months, the APE value fluctuated between $10 and $15. At the end of April, the price of the token almost broke through the $27 mark, but just a few days later, it fell just as sharply to about $15. Since May, ApeCoin has started its downtrend, being valued mostly between $3 and $7. It currently costs $4.52.
There are currently 306,875,000.00 APEs in circulation, out of a maximum supply of 1,000,000,000 coins. ApeCoin has a market capitalization of $1,388,374,231, which ranked the asset 37th by that metric. The trading volume for the last 24 hours increased by 27.89% and amounted to $121,131,212, which is a good indicator.
What is ApeCoin (APE)?
ApeCoin is the utility token of the APE ecosystem focused on strengthening the BAYC community. It was created by ApeCoin decentralized autonomous organization (DAO) according to the ERC-20 standard based on Ethereum. The utility token is also a governance token, allowing its holders to perform actions or initiate projects within the blockchain network. Also, like any other currency, APE can be used to send and receive payments in a decentralized network.
It is also important to note that ApeCoin is the main currency of the Bored Ape Yacht Club ecosystem, which was discussed at the beginning of the article. As a reward, all BAYC NFT holders received free APE tokens that can be stored or exchanged for another crypto or fiat currency.
The ApeCoin project includes not only the BAYC NFT collection, but also the Mutant Ape Yacht Club (MAYC) and the Otherside metaverse. And in all this, the APE utility token acts as a decentralized protocol layer for community activities aimed at promoting culture in the metaverse and creating new digital products.
FAQ
Is ApeCoin a good investment?
This question is always difficult to answer. On the one hand, all the forecasts of respected resources predict an increase in the value of the APE token. And in general, ApeCoin is the official currency of a popular BAYC project that has already attracted many celebrities. On the other hand, the fact that Yuga Labs denied its participation in the creation of ApeCoin does not inspire confidence in the project. The crypto project does not have an official roadmap other than informing the community of its plans on Twitter. And the token itself shows a very high level of uncontrolled volatility.
How high can ApeCoin go?
Experts at Gov Capital predict that the token rate has every chance to rise to a record $68.13 in 2025, while at PricePrediction expect it to reach $115.35 in 2030. However, the growth of ApeCoin may be affected by unexpected factors that cannot be foreseen. Therefore, no one can say 100% how far ApeCoin will go.
Should I invest in ApeCoin?
This decision must be made by each investor independently after weighing all the factors. If you are attracted to the NFT culture and the idea of BAYC with its voguish bored apes and want to be a part of a prestigious crypto club despite the high risk of losing, you can invest in ApeCoin.
But you should not forget that the value of this asset is very volatile, and many investors have already suffered losses by buying the crypto when it was more expensive than now.
Start a Cryptocurrency exchange
Try our crypto exchange platform
Exchange
Disclaimer: Please keep in mind that the content of this article is not financial or investing advice. The information provided is the author's opinion only and should not be considered as direct recommendations for trading or investment. Any article reader or website visitor should consider multiple viewpoints and become familiar with all local regulations before cryptocurrency investment. We do not make any warranties about reliability and accuracy of this information.