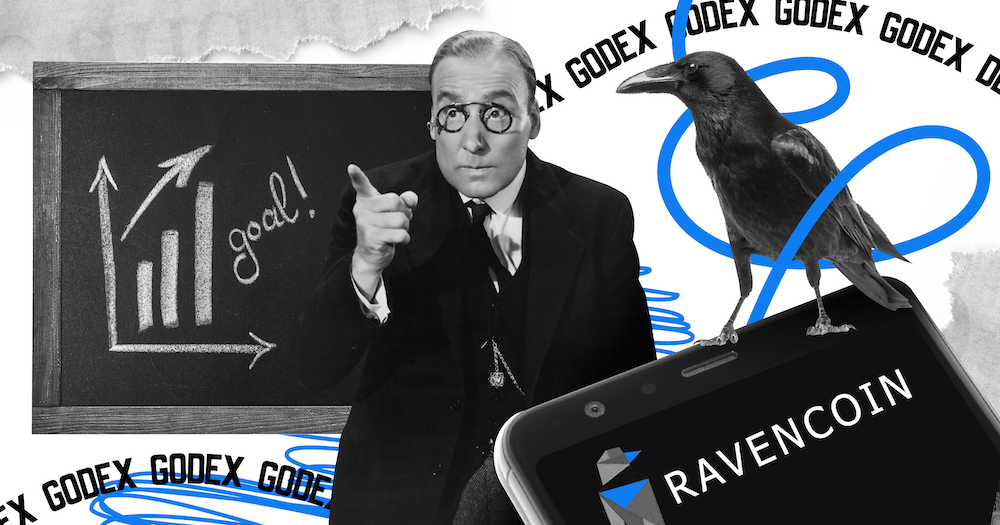 Ravencoin (RVN) is an innovative open source decentralised platform for fast and secure asset transfers that uses peer-to-peer technology. This altcoin was launched in October 2017 (on Bitcoin's 9th anniversary) and released in January 2018 with almost no PR and marketing campaigns. In a very short period of time, this cryptocurrency was added on two prestigious decentralized exchanges and successfully entered the cryptocurrency sector.
Ravencoin has a high credibility and constantly increasing market volumes. The project has numerous high-performance characteristics, such as improved conformity, shared voting rights, messaging and a special digital wallet designed specifically for this promising cryptocurrency. It is a hardfork of BTC. Thus, it can be found on several well-recognized cryptocurrency platforms, such as Poloniex, Bittrex, and many others. The project puts a special emphasis on transfer of assets based on the top 2 largest cryptocurrencies by market capitalisation – Bitcoin and Ethereum – and uses KawPoW algorithm as well as X16R protocol. 
Ravencoin key characteristics
Ravencoin is a new blockchain-based platform that allows users to tokenize existing structures, as well as create new exciting projects. Taking into account that all financial operations within the Ravencoin service are transparent and public, users of this network can also easily transfer RVN tokens to one another. The Ravencoin team puts a great emphasis on privacy, user safety and resistance to economic censorship. The other essential aspects of this promising digital token are also satisfying:
block formation takes less than 60 seconds, which significantly speeds up the processing of data and transactions;

mining reward is 5,000 RVN; 

market cap is nearly $ 93,038,742;

mining algorithm: x16r.
All assets are integrated with the GUI wallet, where they are easily managed. The wallet also issues new coins and displays the current balance. In a couple of years, the development of Ravencoin will be aimed at optimization and technical refinement, as well as popularization of the platform. The lack of well-designed PR campaign did not prevent information from systematically appearing in the vastness of specialized sites, which ensured the surge in the number of users and constantly increased the rate of Ravencoin on the exchange.
Since 2018, thousands of miners have decided to join the RVN mining because of strong community support and a huge potential for growth. Ravencoin has an active development team which is constantly trying to improve this altcoin and its technical characteristics. SImilar to Ethereum, Ravencoin is way more than just a virtual currency. It is a revolutionary peer-to-peer service with a primary goal to simplify various operations related to assets. Ravencoin is solely built on the Bitcoin code, with the exception of an additional PoW mechanism also called X16R to eliminate the risk of ASICs being developed for mining. 
Ravencoin wallet setup 
Keeping RVN coins is no different from storing Bitcoins and requires installing a specialised digital wallet. You can read about all the available wallet options for various operating systems on the main Ravencoin website. However, the most widespread is the Ravencoin storage (PC or mobile), which requires to complete several steps:
Download the required version and complete the installation.

Wait for the system to sync.
After initialization, it is recommended to encrypt the wallet with the help of a password and mnemonic phrase and set a backup. Moreover, the app allows users to easily create several wallets simultaneously, using a separate password for each of them. It is also possible to print a paper wallet if you are more interested in cold storage options. However, users are often discouraged from storing it in PDF format to prevent file theft (which is much easier to do than theft of paper). To replenish the wallet, the sender of the money will be asked to provide the public address. In this case, before replenishing an offline wallet with a big number of RVN coins, a small transaction of several coins should be carried out in order to be able to make sure that the balance is replenished.
Ravencoin has a digital wallet that functions in a similar way as a standard Bitcoin wallet. You can also get an offline wallet, but we recommend you to find and install the Raven QT wallet. Raven-Qt option can be effortlessly integrated with cenos7, fedora27, in addition to other globally accepted OS. Thus, it is not challenging to choose the right RVN wallet for your coins and install it to your device.
Ravencoin value explained 
Ravencoin was initially listed on crypto platforms in early 2018. The original price of this digital token was nearly $ 0.3, initial market capitalization – close to $ 0. Very soon, the price level rose to $ 0.6 and $ 40 million, accordingly. Considering that the core team did not spend enough time designing a PR and communications network, and RVN was listed just on a couple of platforms, the surge was very impressive. Many crypto experts claim that the growth was triggered by the active participation of the RVN miners community, who were attracted to the idea of getting a decent RVN benefit for mining.
A serious correction has begun after the impressive RVN bull run. In April 2018, the token indicators fell by half. In May, the digital coin succeeded to shortly go back to its previous positions, prolonged stagnation began in the following summer. Users and followers have simply lost motivation and trust in the platform and the market volume of this virtual currency dropped significantly and did not climb above $ 0.1 – 0.2 cents.
The year 2019 was quite successful for the RVN team and its followers. In early spring, the altcoin was traded for almost $ 0.2 cents. The market volume and price has grown from $ 80 million to $ 210 million in a few months, and this virtual currency took the 32nd place in the CoinMarketCap list. 
The uptrend Ravencoin dynamics is often explained by the proliferation of the RVN token into everyday life. This promising coin is utilized by 15 sites from various fields – from banking and innovative systems to architecture and the e-commerce industry. The platform is generously sponsored by numerous investors and angels, and altcoin is actively reinforcing its reputation in the market.
Ravencoin — forecast and prospects in 2020
Ravencoin has several important advantages and tech aspects which make this altcoin attractive to investors and traders in 2020.
First, the Ravencoin team offers a very up-and-coming tech solution. Attention to projects which focus on digitizing and tokenizing assets is steadily increasing, and the idea behind Ravencoin is capable of making its native token very well-known and costly.
Secondly, the virtual coin is successfully conquering the crypto industry. At the beginning of its journey, it was feasible to purchase RVN only on Cryptobridge or QBTC in a very imited number of pairs, i.e. Litecoin (LTC). These days, the majority of operations are carried out in the RVN / BTC pair on very prestigious platforms: Binance (40%), DigiFinex (24%), Upbit (21%), Bittrex (15%).
What is more, the platform gets tremendous Binance support. The CEO of this well-known company has even posted a tweet about the best features of Ravencoin despite the fact that the platform never posts announcements about the coins being listed on Binance.
Thirdly, the Ravencoin team published a great roadmap which is regularly reviewed and updated. The team also plans to announce a special award for new tokens, instruments for developing rare assets (particularly, connected to the land administration and business), a voting mechanism and a messaging app.
As stated by different forecasting services, the digital token price will surge to $ 0.20 – $0.50 cents by December, and in 2021 it has all chances to reach $1 level. Can you consider investing in Ravencoin? For sure, but keep in mind some essential nuances.
If you attentively check its history and chart dynamics, you will see a repeating pattern. Any significant announcement or news  – whether it is agreement with a new startup, important listing on a prestigious platform or showcasing new features – boosts the coin position. But after a surge, a correction stage soon starts, and the value drops symmetrically.
The profitability of any investment relies on whether the project team keeps working on its performance and functionality. 
The success of a long-term investment depends on whether the developers can significantly expand the Ravencoin user base. Indeed, due to a low start, the project lost a great number of prospective users and traders.
It is very difficult to make any long-term forecasts for Ravencoin, but it can be said for sure that the performance of the cryptocurrency, even if it is not very popular now, will be very relevant in the near future. Protection against ASIC mining also has positive implications for Ravencoin.
Taking into account the Ravencoin characteristics and prospects, RVN rate should grow. It will reach success either in the short term, or in the medium and long run.
Ravencoin Price Prediction for 2023 and 2025
If Ravencoin survives until 2023, it is more likely that the token will surge in price due to a growing number of investors, traders and miners, which means that each token will be worth $ 0.50 – $ 5.
Likewise, if the RVN will still be present in the crypto market in 2025, the token will definitely reach its current value of 100x +, which means that each token will be worth $ 5+.
Read more in Crypto Currencies