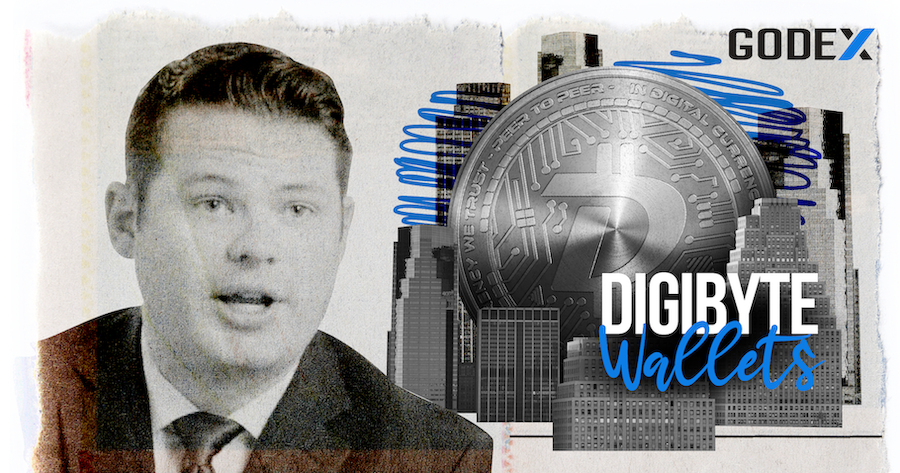 Let's take a look at popular, safe, and secure Digibyte wallets. In our article, we added short info about the DigiByte project and analyze the most reliable wallets for this cryptocurrency.
DigiByte cryptocurrency overview
DigiByte is a cryptocurrency that provides high-speed money transfers. The first version of the project was presented on January 10, 2014. 
DigiByte has a fifteen second time limit, which means transactions are completed, verified and confirmed faster. The throughput of the system is 280 transactions per second. DigiByte aims to surpass the operating speed of internet payment operators such as PayPal. These operators have processing speeds capable of producing one million transactions per day. 
Developers are actively implementing the most promising ideas that come to Bitcoin and other protocols with a noticeable delay. To ensure the reliability of the consensus, the MultiShield mechanism is used, which adjusts the difficulty of mining in real-time. In 2017, DigiByte became one of the first protocols to implement the use of SegWit, a technology designed to speed up translations using the PoW algorithm.
It was originally considered as a gaming cryptocurrency, but due to numerous disputes, the coin's gaming function was closed. DigiByte remains one of the leading altcoins that uses multiple Proof-of-Work algorithms, i.e. five algorithms.
Solving problems such as hacking has become a priority in the digital world, with so many people trying to manipulate others for financial gain. As a result of this threat, valuable pieces of information may be either lost or no longer confidential. DGB is committed to addressing the issue of cybersecurity and this is its main task:
DigiByte is verified by thousands of different users and therefore cannot be hacked or tampered with.

Implementation of the five mining algorithms is another ideal step for solving the insecurity problem.

By creating protocols such as multi shield and digishield, blockchain is protected from any malicious attacks.

DigiByte's speed is estimated to be 40 times faster than Bitcoin, which means that it is able to solve the problem of slow transactions.
DGB token is the unit of value in the system. In November 2017, there were over 9.4 billion Digibyte coins in circulation. The upper limit of emission is capped at 21 billion which is 100 times more than Bitcoin.
Wallets developed by the DigiByte community
You can store coins on an official cold wallet created for such operating systems as:
DGB Core is a complete client that creates a network. It provides a high level of stability, as well as support to SegWit and Dandelion. However, such a digital wallet takes up a lot of disk space.
You can also store coins on the official DGB Mobile wallet for operating systems such as:
The mobile DigiByte wallet has a Digi-ID feature for secure authentication and DigiAssets support. This type of wallet is very convenient, as it is almost always at hand: you can quickly check the balance, rate, and also receive or withdraw coins to an exchange or cold wallet.
You can also use the Google Chrome extension called DigiByte Go which can also store DGB coins. DigiByte Go was renamed DigiByte Gaming Wallet in October 2017.
Wallets provided by 3rd party companies
#Coinomi 
Сoinomi wallet for digital coins was created in 2015 by very skilled developers with solid programming experience in large projects. Official registration of Coinomi Ltd. is in London.
Gradually the popularity of Coinomi grew up due to the multicurrency function and mobile focus. Currently the wallet supports more than 507 digital assets, including DGB.
Positive aspects:
Anonymous storage and use of crypto money. There is no support for the KYL mechanism. Clients' data is encrypted, and the IP addresses are hidden, information is mixed and dozens of false addresses are created.

Cryptocurrency ShapeShift exchange service and built-in service Changelly are integrated.

Simplicity and convenience of the wallet, as there are no unnecessary inappropriate tools, such as the price charts, news feeds, chats etc. There are no even two-phase authentication and multi-signature transfers. Everything is easy and minimalistic. Thanks to this, the application has a small volume and low requirements for RAM capabilities, which is very important for mobile devices.

Impressive conversion speed. Simultaneous work with two exchange services speeds up the fulfillment of exchange operations. 

Dynamic commission calculated by the system at the time of submitting a transfer or exchange request. It is possible to independently measure the size of the system commission by bringing closer or moving your own position in the turn.
Negative aspects:
The name "Coinomi" appears frequently in the news. For example, there have been several reports that users lost tens of thousands of dollars due to a bug in the application. However, industry journalists believe that Coinomi is the best wallet on the market. Even though the developers don't update the code on GitHub.
The painful drawback of Coinomi wallet is the users` problems with contacting the technical support center of the service. At the time of force majeure situations, it takes a very long time to wait for an answer. But unpleasant situations rarely happen, and usually they occur due to the carelessness of a user himself.
#Exodus 
Exodus is a relatively new software wallet that has already gained some popularity. The first desktop wallets required a complete download of the blockchain onto the hard drive. They still exist, but they are rarely used due to the huge size of the storage.
Exodus wallet belongs to the "thin" category, it weighs no more than 100Mb, such utilities are synchronized with the cryptosystem after gaining access to the network. At first it was possible to download Exodus only in the desktop version, now on the official website, there are applications for:
Windows (64-bit);

Linux;

Mac OS;

Google Play;

App Store.
The internal exchange between cryptocurrencies is done using the ShapeShift application. Conversion within the wallet system is available only for the listed cryptocurrencies. Although it is worth noting that the number of cryptocurrencies in the system is constantly increasing.
Positive aspects:
Large selection of currencies.

Intuitive graphical interface.

Built-in exchanger.

Lack of registration.

Dumping of private keys is available.
Negative aspects:
Closed source.

Security settings are activated only after a deposit.
#Atomic Wallet 
Atomic Wallet is a multi-currency wallet for desktop and mobile platforms.
Atomic Wallet does not actually contain any coins, they are all stored on the blockchain. Atomic is the door to your crypto assets. The utility is downloaded and installed on a computer or mobile gadget and provides you with keys to manage your share of the blockchain. You are able not only to receive, store and send money, but also to exchange one crypto asset for another thanks to Atomic Swap technology.
Atomic Wallet app is compatible with operating systems
Windows;

MacOS;

Ubuntu;

Debian;

Fedora.
You will also find it in the Google Play and App Store. The wallet does not take up much space and does not require downloading a complete copy of the blockchain to your hard drive.
Atomic is a reliable crypto storage. The structure of the application is protected by the AES (Advanced Encryption Standard) cipher, which is used in military and government programs. When creating a wallet, you do not need to provide personal data. Information is transmitted in the encrypted form, and private keys are stored only with you. By following basic security rules, you can keep your assets under personal control.
Check also Best Ravencoin Wallet
#Ledger Nano S 
Ledger Nano S hardware wallet is more like a key to the apartment where the money is. Ledger wallet stores secret codes that provide access to your virtual coins. The device is the first and only hardware wallet on the market to be certified by the French cybersecurity agency ANSSI. Ledger hardware safes are equipped with their own operating system (BOLOS) to protect against malicious attacks and isolate applications from each other.
Can you hack a Ledger wallet and get hold of secret codes? There were no real precedents and complaints on the cryptocurrency forums. Even if the PC is infected with some malicious utility, it will not be able to get into the Ledger cryptocurrency wallet through the dual protection system.
A complete list of DigiByte wallets is available on the official website here.
DGB is a project with unique technology that solves many problems of peer-to-peer ecosystems. The developers are pursuing a consistent policy of stabilizing the exchange rate and even announced plans to link the token to the price of the traditional currency.
Read more in Crypto Currencies